[Photo by Ahmed Zayan on Unsplash]
Good morning,
Over the weekend, we picked up Rolf Dobelli's The Art of the Good Life and looked up some passages that we had highlighted when reading it earlier. These passages offer pointers to what is the good life and why course corrections matter.
"As an amateur pilot I've learned that it's not so much the beginning that matters but the art of correction following takeoff.
"As cells divide, copying errors are perpetually being made in the genetic material, so in every cell there are molecules retroactively correcting these errors. Without this process of DNA repair, as it's known, we'd die of cancer hours after conception. Our immune system follows the same principle. There's no master plan, because threats are impossible to predict. Hostile viruses and bacteria are constantly mutating, and our defenses can only function through perpetual correction.
"The most common misunderstanding I encounter is that the good life is a stable state or condition. Wrong. The good life is only achieved through constant readjustment.
"As the American general—and later president—Dwight Eisenhower said, 'Plans are nothing. Planning is everything.' It's not about having a fixed plan, it's about repeated replanning—an ongoing process. The moment your troops meet your opponents', Eisenhower realized, any plan is going to be obsolete.
"There's no such thing as the ideal training. There's more than one life goal. There's no perfect business strategy, no optimal stock portfolio, no one right job. They're all myths. The truth is that you begin with one set-up and then constantly adjust it. The more complicated the world becomes, the less important your starting point is. So don't invest all your resources into the perfect set-up—at work or in your personal life. Instead, practice the art of correction by revising the things that aren't quite working—swiftly and without feeling guilty. It's no accident that I'm typing these lines in Word 14.7.1. Version 1.0 hasn't been on the market for years."
Have a good week!
In this issue
The Sardar of Spin
Managing life
Evolution
The Sardar of Spin
Last week, we started reaching out to some fine minds to ask what is the first thing they plan to do once the pandemic recedes. Rajdeep Sardesai, consulting editor at the India Today group was one among them. Even as we were exchanging notes with him, he spoke to us about an image of his dad Dilip Sardesai that he had shared for a new book. Published by Roli Books, The Sardar of Spin has a delightful collection of stories about legendary spinner Bishan Singh Bedi (Bish to friends), penned by some of the biggest names in cricket. We enjoyed reading it. Not just because it spoke about Bedi's exploits on the field, but because the rollicking narrative holds pointers to how leaders build teams. Like this anecdote from a riveting chapter by Venkat Sundaram, former first class cricketer. who played under Bedi's captaincy.
"I once asked Bish how he rated Barry Richards, the South African batsman, and whether he enjoyed bowling against him. Bish said that Barry was a superb batsman, and pretty arrogant at the crease. 'I was playing against him in Northants vs Hampshire. Hampshire had Gordon Greenidge and Barry as openers. Barry was striking the ball well, and they were off to a flyer. I was asked to bowl and the captain, Patrick Watts, asked me for my field. I said I wanted three close catchers, a slip, a short leg and a silly point.' 'Barry is on strike, so why don't you take an additional fielder on the off side?' the captain asked Bish. Bish suggested that he wanted to attack the batsman. The first ball saw Barry move out and play a cover drive for four. Again, the captain came to Bish and suggested an additional fielder on the off side. Again, Bish remained adamant. Next ball, same result once again and the same discussion between the captain and the bowler. The third ball saw Barry jump out of his crease, but this time, Bish got the ball to dip in flight and turn just that bit to beat the on rushing batsman and had him stumped by the proverbial mile. That's Bish gambling and buying his wickets. 'What's 8 runs for Barry's wicket?' he said."
Dig deeper
Managing life
Indra Nooyi's book My Life in Full hit the shelves last week and has been grabbing headlines. Prannoy Roy described it as "Unputdownable". He engaged with Nooyi, the former chief of PepsiCo, widely described as one of the world's most powerful executives, in a conversation that had us hooked from the word go. Here's an excerpt that resonated deeply with us.
[Pranoy Roy] Perhaps one of the biggest challenges that comes through in this book, is your story of the constant struggle to balance work life and family life. Your amazing, supportive and talented husband, and more I'll talk about him later, because he's actually a huge success in his own right. But he gave up so much. And your mother, who you just mentioned, who played such an important role in you, in pressing the accelerator and pressing the brakes. Tell us about that night, which you write about, when your mother said to you, please leave your crown in the garage. And the deeper meaning it had for you at that time on so many different levels.
[Indra Nooyi]: You know the story, which is well documented, when I came home after hearing that I was going to be president and be on the board. This was way back in 2000. It was sort of something so big for me, and I was overwhelmed with emotion that I was going to be ascending to such an important position and on the board of directors of PepsiCo too at the same time. So, I rushed home to tell the news and it was late in the night, and my mother greeted me with, I don't want to hear any news if you have it, just go get the milk. Being the dutiful daughter, I just went and got the milk, and I said wouldn't you just let me just share my big news with you, because I told you I had big news? Instead, all that you tell me is to go get the milk. To which point she said, okay tell me the news. But after I told her, she said, it's fine that you're the president and on the board of directors, but those are all irrelevant. When you enter this house, you are the mother, the daughter, the wife, the daughter-in-law. Don't forget your responsibilities. Do me a favour, leave your crown in the garage.
Now, at that point I must say I was upset, I was upset. I will tell you why I was upset. Because I thought occasionally us women should be allowed to bring the crown into the house. I also felt that, had this been a man he would have been celebrated for the crown. At that point I was upset.
But subsequently I had been thinking about it a lot and saying to myself, you know I think both husband and wife should leave their crowns in the garage. And when you come home, you're the mum and dad, or the daughter and son, or your daughter-in-law or son-in-law, whatever it is. And I think at home, we've got to be playing the roles that we should be playing, not trying to confuse the roles that we should be playing. And basically, what my mother was saying to me, the deeper meaning was, if you want to have kids that grow up to be productive citizens, if you want to maintain your marriage, if you want to make sure that you take care of the elders that you are responsible for, I have a huge multi-generational responsibility deep in me, she was saying you've got to leave the crown in the garage. Because if you come home, and think all of them work for you, you're going to lose the ball. And you know there are times I may slip into that role, but I don't think I've ever brought the crown into the house and tried to lord over people.
Dig deeper
The story of evolution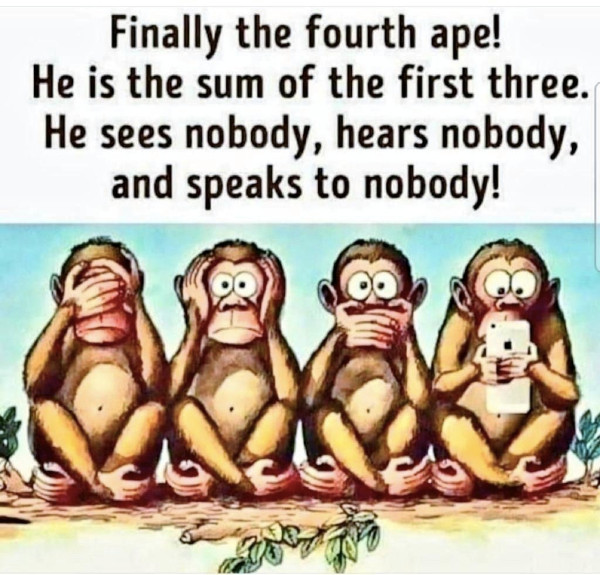 (Via WhatsApp)
Found anything interesting and noteworthy? Send it to us and we will share it through this newsletter.
And if you missed previous editions of this newsletter, they're all archived here.
Bookmark Founding Fuel's special section on Thriving in Volatile Times. All our stories on how individuals and businesses are responding to the pandemic until now are posted there.
Warm regards,
Team Founding Fuel
(Note: Founding Fuel may earn commissions for purchases made through the Amazon affiliate links in this article.)