[From Pixabay]
Good morning,
Just how does Adam Grant write and research as much? Cal Newport talks about that basis a conversation with Grant in Deep Work.
"It turns out that Grant thinks a lot about the mechanics of producing at an elite level. He sent me, for example, a collection of PowerPoint slides from a workshop he attended with several other professors in his field. The event was focused on data-driven observations about how to produce academic work at an optimum rate. These slides included detailed pie charts of time allocation per season, a flowchart capturing relationship development with co-authors, and a suggested reading list with more than twenty titles…
"Though Grant's productivity depends on many factors, there's one idea in particular that seems central to his method: the batching of hard but important intellectual work into long, uninterrupted stretches. Grant performs this batching at multiple levels. Within the year, he stacks his teaching into the fall semester, during which he can turn all of his attention to teaching well and being available to his students. (This method seems to work, as Grant is currently the highest-rated teacher at Wharton and the winner of multiple teaching awards.) By batching his teaching in the fall, Grant can then turn his attention fully to research in the spring and summer, and tackle this work with less distraction.
"Grant also batches his attention on a smaller time scale. Within a semester dedicated to research, he alternates between periods where his door is open to students and colleagues, and periods where he isolates himself to focus completely and without distraction on a single research task. (He typically divides the writing of a scholarly paper into three discrete tasks: analyzing the data, writing a full draft, and editing the draft into something publishable.) During these periods, which can last up to three or four days, he'll often put an out-of-office auto-responder on his e-mail so correspondents will know not to expect a response. 'It sometimes confuses my colleagues,' he told me. 'They say, 'You're not out of office, I see you in your office right now!' ' But to Grant, it's important to enforce strict isolation until he completes the task at hand.
"My guess is that Adam Grant doesn't work substantially more hours than the average professor at an elite research institution (generally speaking, this is a group prone to workaholism), but he still manages to produce more than just about anyone else in his field… he's leveraging the following law of productivity:
"High-Quality Work Produced = (Time Spent) x (Intensity of Focus)."
Let us know what you think of Grant's work ethic.
In this issue
The importance of speaking up
What NFTs really are
Helmets in a lockdown
The importance of speaking up
There's a joke among business journalists that no business leader has ever said anything bad about a budget. Even if they say something bad, it will be within a range that the political leaders tolerate.
But we live in a time when multiple stakeholders—employees, suppliers, customers, investors, and other members of society in which a business operates—feel deeply about social issues. Can business leaders remain silent?
It's not a question faced in India alone but across the world.
Bloomberg reports: "Over the years, expectations for companies to advocate for social issues, such as marriage and gender equality, have grown. By the time George Floyd was murdered by Minneapolis police in May 2020, staying silent was a bigger risk than taking a stand, for many CEOs.
"Still, some signs point to waning corporate engagement. A Bloomberg analysis of corporate earnings calls in the second quarter of this year showed that discussion of diversity issues had nearly disappeared after peaking in July 2020."
However, it's important for business leaders not to turn their faces away.
The story quotes Ray McGuire, former New York City mayoral candidate and ex-chairman of Citigroup Inc: "Private sector can't sit on the sidelines. Acquiescence and complicity is not acceptable in a world where we're facing two existential crises, climate and wealth gap. The private sector cannot abdicate its responsibility."
Dig deeper
What NFTs really are
The thing about Non-Fungible Tokens (NFTs) is that you either get it, or you don't. Some are now worth millions and the many debates around it on how to think about the idea can get crippling at times. So, when we stumbled across this succinct explanation on the theme by Joshua Brown, a financial advisor and author, we latched on to it right away.
"I collect shares of businesses. Been doing it since my late teens. Not always successfully. I use a certain type of non fungible token called a stock certificate for this. I never lay hands on the certificate, it's in digital form, living somewhere in the multiverse. A company called DTC makes sure the shares I've bought are the shares I get. And then I hold them. Sometimes I will trade them for digital dollars that I also don't ever see or touch, but then soon after I am trading those dollars for another pile of virtual stock certificates. People will say 'You're crazy, why would you want to buy a fraction of a company you will never touch and hold in your hands?' And I'm like 'You just don't understand.'
"My portfolio of virtual business ownership tokens also entitles me to actual business ownership in the not-online world. Like, for example, I own shares of a real estate investment trust, which is a type of NFT that owns land and property and is required to pay out 90% of the rental income all that land and property generates…
"Now, you might be saying to yourself 'Why would this idiot be wasting his money collecting ownership in digital stock certificates and the cashflows of businesses when he could be buying up the drawings of Ukrainian college students?' I acknowledge, there really aren't any great answers for this. Perhaps I will catch on at some point, but I'm old school. Maybe I just have bad taste in collectibles."
Dig deeper
Helmets in a lockdown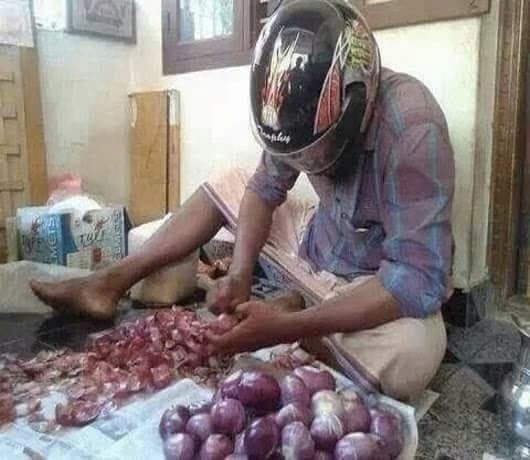 (Via WhatsApp)
Found anything interesting and noteworthy? Send it to us and we will share it through this newsletter.
And if you missed previous editions of this newsletter, they're all archived here.
Warm regards,
Team Founding Fuel
(Note: Founding Fuel may earn commissions for purchases made through the Amazon affiliate links in this article.)