Good morning,
The website of the book No Rules Rules by Netflix founder Reed Hastings and Insead professor Erin Meyer declares: "Hard work is irrelevant. Be radically honest…" Once we dig into the book we realise building culture is indeed hard work, and radical honesty might not work unless it's done with a positive intent.
Hastings writes, "I began encouraging everyone to say exactly what they really thought, but with positive intent—not to attack or injure anyone, but to get feelings, opinions, and feedback out onto the table, where they could be dealt with.
"As we began giving increasing amounts of candid feedback to one another, I saw that getting feedback had an added benefit. It pushed the performance in the office to new levels.
"An early example involved our chief financial officer, Barry McCarthy. Barry was the first Netflix CFO, serving from 1999 to 2010. He was a great leader with vision, integrity, and an incredible ability to help everyone deeply understand our finances. But he was also a little moody. When the head of marketing, Leslie Kilgore, mentioned Barry's moodiness to me, I encouraged her to speak to him herself. 'Tell him exactly what you've said to me,' I suggested, inspired by my marriage counseling experiences.
"Leslie was chief marketing officer from 2000 to 2012 and is currently on our board of directors. Her external persona is no-nonsense, but she has a dry, often surprising, sense of humour. Leslie spoke to Barry the next day and did a much better job than I ever could. She found a way to calculate how much money his moodiness was costing the business. She spoke to him in his own financial language, adding a shot of her infectious humour to the communication, and Barry was moved. He went back to his team, told them about the feedback he'd received, and asked them to call him out when his mood was influencing their actions.
"The results were remarkable. In the subsequent weeks and months, many on the finance team spoke to me and Patty about the positive change in Barry's leadership."
The key lesson for us, as we reflected on this anecdote was this: when we give feedback to others, it's perhaps even more important to look within ourselves, and ask the question: Why am I doing this?
In this issue
Vishy Anand: On keeping calm in a storm
Visit to a dark store
Holiday motivation
Have a great day!
PS: We are taking a year-end break till January 2, 2022. We'll be back with the daily newsletter on January 3.
Vishy Anand: On keeping calm in a storm [FF Exclusive]
Founding Fuel and BITSoM hosted Viswanathan Anand, the five-time World Chess Champion, on Twitter Spaces in mid-December. He was in conversation with HT's editor-in-chief R Sukumar.
Vishy, as he is popularly known, was our first guest in a series of Twitter Spaces conversations as part of the run up to Beacon, the Festival of Ideas by BITSoM, the new global business school based in Mumbai, in partnership with Founding Fuel. (At the festival, Vishy will be in conversation with BITSoM's dean Ranjan Banerjee.).
To watch the video stream from the festival, register here: bit.ly/beacon2022
One of the questions Vishy was asked was how to stay calm. Here's the crux of what he said.
"Practice. If there's something you find difficult, keep at it till you get better at it.
"The second thing is visualization. There are things you cannot possibly study and rehearse in advance. You have to try and visualize. You can base it on your own experience. Six years back, I remember, I had totally one position and then I blundered and I still feel sick to the stomach. What went wrong? And then you try to think what did I think at that moment? Was my mind drifting to what I would have for dinner, or what I would say to the press? Did I lose concentration? Was I double checking? Was I nervous? You have to get inside your head because it's quite likely that under that pressure cooker condition, you will do the same thing again."
Read a summary and/or watch the full session
Visit to a dark store
A few days ago, a story on why ultra-fast delivery is now the rage had our attention. But just how are ultra-fast delivery stores powered? The team at Moneycontrol investigated this across Bengaluru, Mumbai and Delhi and came up with a ground report on what it looks like.
The story defines a dark store "as a retail distribution centre or warehouse that caters exclusively to online shoppers."
"Their employees are somewhat like the Oompa Loompa helpers from Roald Dahl's Charlie and the Chocolate Factory—they are all around you making your life more convenient, but you barely notice them.
"Dark stores look like mini warehouses located closer to customers than the conventional fulfilment centres of online retailers, but they are much more than just storage places. Digitisation and automation are their key pillars.
"The speed at which the employees work is both amazing and intriguing at the same time. And why not? After all, at the end of the day, they have to deliver your groceries at your doorstep in 10 minutes or less!"
The stories are compelling. Take the narrative of Vishal (name changed) from Delhi, for instance.
"He has been working in this dark store for over a week now and has been promised 1.5X more salary.
"Vishal is the face of thousands of young workers—some have passed Class 12 and some are graduates who are taking up the roles of packers, pickers and assorters in the fast-paced new-age economy.
"This outlet hasn't implemented it yet, but many dark stores offer incentives to pickers based on the aggregate time taken to assort and bring the products to the front desk. Here, employees are paid a fixed salary, but that clearly makes no difference to the speed at which they work."
Dig deeper
Holiday motivation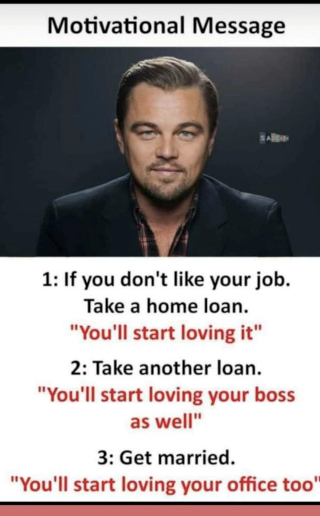 (Via WhatsApp)
Found anything interesting and noteworthy? Send it to us and we will share it through this newsletter.
And if you missed previous editions of this newsletter, they're all archived here.
Warm regards,
Team Founding Fuel
(Note: Founding Fuel may earn commissions for purchases made through the Amazon affiliate links in this article.)