[From Unsplash]
Dear friend,
We respect people who give us solutions, we celebrate builders and we revel in stories about "aha" moments. As a result, we fail to pay due respect to the moments when the problem hits us hard, when we discover the pain points and when we define the problem right. Getting the question right is the first and the most important step in arriving at an answer.
In Black Box Thinking, Matthew Syed quotes James Dyson, founder of Dyson, and inventor of the dual cyclone bagless vacuum cleaner: "Creativity should be thought of as a dialogue. You have to have a problem before you can have the game-changing riposte."
Syed writes: "We often leave this aspect of the creative process out of the picture. We focus on the moment of epiphany, the detonation of insight that happened when Newton was hit by the apple or Archimedes was taking a bath… But this leaves out an indispensable feature of creativity. Without a problem, without a failure, without a flaw, without a frustration, innovation has nothing to latch on to. It loses its pivot."
Syed frames the idea—that creativity is in many respects a response—using a number of examples.
Relativity was a response to the failure of Newtonian mechanics to make accurate predictions when objects were moving at fast speeds.
Masking tape was a response to the failure of existing adhesive tape, which would rip the paint off when it was removed from cars and walls.
The collapsible stroller was a response to the impracticality of unwieldy baby carriages (Owen Maclaren, the designer, came up with the idea after watching his daughter struggling with a baby carriage while out with his granddaughter).
The wind-up radio was a response to the lack of batteries in Africa, something that was hampering the spread of educational information (Trevor Baylis came up with the idea after watching a television programme on AIDS).
The ATM was a response to the problem of getting hold of cash outside of business hours. It was invented by John Shepherd-Barron while lying in the bath one night, worrying because he had forgotten to go to the bank.
Dropbox, as we have seen, was a response to the problem of forgetting your flash drive and thus not having access to important files.
Have a great day!
The road to India@100
India's leap from a crisis in the economy in 1991, spurred GDP growth, and lifted millions of people above the poverty line.
But, in 2002, when Indian business leaders organised an event in New York to showcase "India Shining", CK Prahalad, the global management thought leader, said it was not yet the time to celebrate India's progress.
Arun Maira writes in his essay in Founding Fuel: "India's leaders must be honest, [Prahalad] said. India was far from the tryst with destiny it had aspired for in 1947. Rather than celebrate what had been achieved so far, he urged them to envision what India must become by 2022, 75 years from its independence...
"In spite of benefits from the 1991 reforms, millions of citizens continue to suffer from caste and religious oppression, and millions do not earn enough, nor have economic security."
Now, the 20 years since the creation of the India@75 mission have slipped by. The goals have not been achieved. There are moves now to create a vision of India@100.
But, Maira writes, we must plan the next 25 years to India@100 differently. "It will not be achieved if we do not change the underlying theories-in-use of economics, governance, and business… As Einstein said, 'To work harder to solve systemic problems with the same ways of thinking that have created the problems is madness'."
What shape might this transformative change take?
Founding Fuel has invited Ravi Venkatesan and Naushad Forbes, two of India's most respected business thought-leaders, to reflect with us about the journey ahead for India. They will be in conversation with Arun Maira on May 28, 5 PM IST to 6:30 PM IST.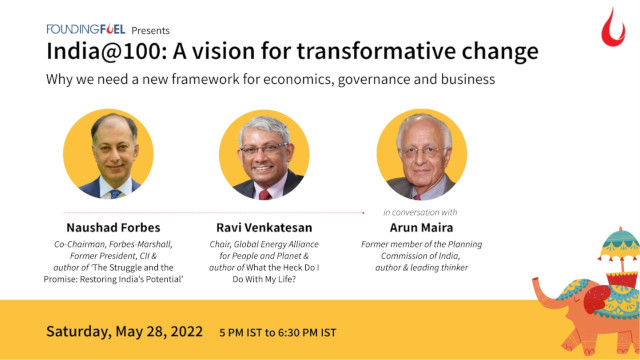 Dig deeper
The consequences of sanctions against Russia
Russia may figure out how to navigate as a permanently state-sanctioned economy—like an Iran or a North Korea. "These economies, they don't just stop, they kind of slow down and stumble," [Edoardo Saravalle, a sanctions researcher] said. "But often, I think in the popular perception, there was this point where the economy just collapses—and there isn't necessarily. Past sanctions programmes haven't had these types of collapses."
Russia will find workarounds where it can. It will substitute for supply chains, many of which will be murky, and help fuel a dark economy. Living standards may erode to levels not seen in decades, and the things Russians buy may be more poorly made and harder to get… In early April, after the Biden administration tightened sanctions, a senior Biden administration official told reporters that, at this rate, Russia "will go back to Soviet-style standards from the 1980s."
That will not likely happen in the immediate future, but it is the course Russia is on, for as long as the West keeps it there.
The US and its allies acted in cohesion and got enormous buy-in from other partners, including in Asia. But as the war drags on and sanctions continue, that coalition may fracture, especially if the economic costs mount beyond Russia's borders.
Poorer countries will experience the shock of these economic sanctions, without having much say at all in whether or not they will support these policies. Farmers in Brazil need fertilizer from Russia, countries that depend on Russian arms exports all of a sudden won't have parts or equipment for themselves, either.
The sanctions on Russia are unravelling its economy. But this act of extreme economic pressure will have consequences beyond Russia. "It's a form of economic war," Saravalle said. "But it's also very much like we're reshaping the global economy."
Dig deeper
Fair pay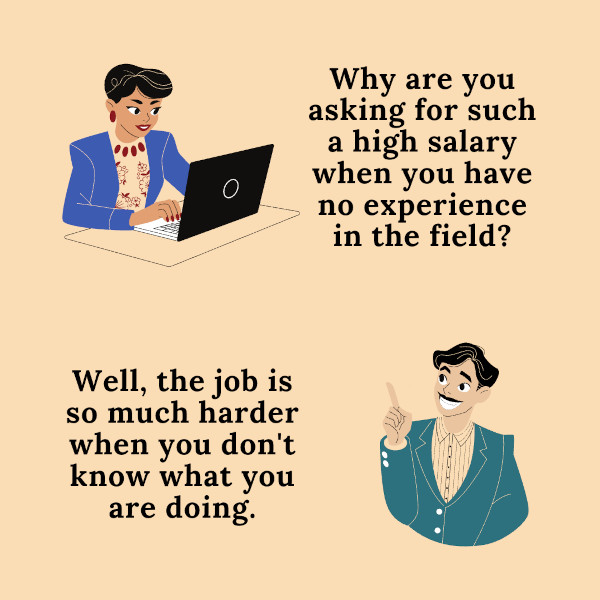 (Via WhatsApp)
Found anything interesting and noteworthy? Send it to us and we will share it through this newsletter.
And if you missed previous editions of this newsletter, they're all archived here.
Warm regards,
Team Founding Fuel