[From Unsplash]
Good morning,
In Driving Honda: Inside the World's Most Innovative Car Company, Jeffrey Rothfeder points to a fundamental mistake people make about a borderless world. These observations are important because many of the problems that we saw in the supply chain, we attribute to the pandemic and Russia's invasion of Ukraine. But, even in good times, things don't move from one geography to another the way we want them to. There are obstacles.
Rothfeder writes: "With win-wins scattered throughout the global commercial landscape, corporate borders would be eliminated and teamwork would be virtual, thanks to continuing breakthroughs in computer and communications technology. A designer in Detroit could change the shape of a headlight fitting and instantly share the CAD file with an engineer in Mumbai who would adjust the dimensions of the part in three different ways to fit into three different automobile models. Next, a factory manager in China would be pinged to look at the file on his tablet on the plant floor and send it to the supplier who would produce three hundred new parts within twenty-four hours. Presto. Done. The fitting is placed on the vehicles within a day of its design.
"Not quite. The more likely scenario is that each step of the process introduces a small deviation. It could be in the design, which may be based on old headlight dimensions that were changed months earlier on the fly in the factory but never actually altered in the car's master blueprints. Or perhaps the supplier's metal-cutting machines inserted a sizing variation that is invisible to the naked eye. As Boeing learned from the losses and delays resulting from aggressively outsourcing virtually all the components for the struggling Dreamliner, aberration is the norm in these situations. And when the part doesn't fit, a typical plant supervisor's reaction would be to set it aside to tackle at another time; after all, he has vehicles to produce.
"Instead of flat and seamless, globalisation is full of hurdles and obstacles."
Have a great day!
Leadership in the hybrid world
A question many subscribers to this newsletter often ask us is how does Founding Fuel pay the bills that sustain us? If that could be summarised in a single line, it is this: We work with a network of thought leaders from India and other parts of the world to craft customised solutions for organisations grappling with change. In the post pandemic world, this includes executing the transition to hybrid with leadership teams. That is why an article in the most recent issue of Harvard Business Review got our attention right away. It captures what we believe in and have worked on.
"Traditional leadership development tells us that 70% of learning happens through on-the-job experience, 20% through feedback, and 10% through formal training. Research conducted over the past three years points to an alternative—and, we believe, more effective—framework for the process that emphasises three actions: sensemaking, or understanding how the business world and the organisation works around you; experimenting, or testing ideas; and self-discovery, or figuring out your own identity in the workplace. When implemented at HSBC this framework enhanced participants' development. The experiment also pointed to new best practices for hybrid leadership development: programmes should be iterative and experimental, embedded in day-to-day work, supported by coaching, and span all modes of delivery from all-virtual to fully in person."
Our Founding Fuel clients have experienced the benefits of this leadership development and learning model. If you and your leadership team would like a conversation with us to explore the possibilities, drop us an email on help@foundingfuel.com.
And do give this article a close look and share what your thoughts are with us.
Dig Deeper
Modi's new trade playbook
Last week, Prime Minister Narendra Modi met US President Joe Biden in Tokyo and agreed to sign up for an Indo-Pacific Economic Framework (IPEF). Just why did he agree is a question that first came up because at least on the face of it, the economic benefits are unclear. But leaders are thinking about the future and forging alliances is changing, argues James Crabtree in Nikkei Asia.
"First, New Delhi is evermore worried about Chinese regional economic dominance. Second, and as a result, Modi is willing to pursue new forms of economic integration, so long as it is with nations like the U.S., with whom India shares a close geopolitical outlook.
"India's economic worries about China are long-standing. New Delhi turned down the chance to join the 15-country Regional Comprehensive Economic Partnership deal in 2020, in part because it feared domestic producers being swamped by Chinese imports.
"Diplomatic ties between the two Asian giants have only worsened since then, driven by military clashes in the Himalayas. But India's economic entanglements with China have actually deepened, with bilateral trade hitting a record of $125 billion in 2021, according to Chinese government data.
"Biden's IPEF is far from perfect, but it is better than nothing, bringing together a dozen other Asian nations to develop new rules and standards and following a model that is vaguely similar to the Paris-based OECD, a club of rich nations. By joining, India finds itself part of a potentially useful geopolitical Asian grouping."
Dig deeper
Superhero mosquito killer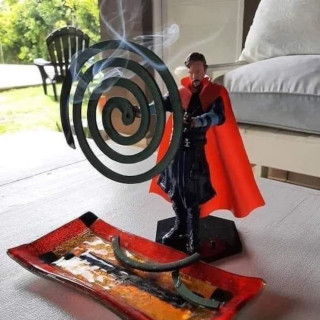 (Via WhatsApp)
Found anything interesting and noteworthy? Send it to us and we will share it through this newsletter.
And if you missed previous editions of this newsletter, they're all archived here.
Warm regards,
Team Founding Fuel