[From Pixabay]
Good morning,
In Focus: The Hidden Driver of Excellence—a book we often go back to and have cited a few times in FF Insights—Daniel Goleman underlines the importance of thinking in systems. He refers to John Sterman, an expert on systems thinking from MIT's Sloan School of Management, who says the term "side effect" is misnamed.
Goleman writes, "In a system there are no side effects—just effects, anticipated or not. What we see as 'side effects' simply reflect our flawed understanding of the system. In a complex system, he observes, cause and effect may be more distant in time and space than we realise.
"Sterman gives the example of debates over 'zero-emission' electric cars. They are not, in fact, 'zero-emission' within a systems perspective, if they draw their electricity from an energy grid composed largely of polluting coal plants. And even if the power is generated in, say, solar farms, there's the cost to the planet of the emissions of greenhouse gases in manufacturing the solar panels and the powering of their supply chain.
"One of the worst results of system blindness occurs when leaders implement a strategy to solve a problem—but ignore the pertinent system dynamics.
"'It's insidious,' says Sterman. 'You get short-term relief, and then the problem comes back, often worse than before.'
"'Much of the time,' Sterman notes, 'people attribute what happens to them to events close in time and space, when in reality it's the result of the dynamics of the larger system within which they are embedded…'
"We are finely tuned to a rustling in the leaves that may signal a stalking tiger. But we have no perceptual apparatus that can sense the thinning of the atmosphere's ozone layer, nor the carcinogens in the particulates we breathe on a smoggy day. Both can eventually be fatal, but our brain has no direct radar for these threats."
Have a great day!
Nagaland's problem with women
While it is heartening to see President Droupadi Murmu, India's first tribal woman be sworn into office, this is a good time to introspect as well. "To understand how sticky attitudes to women in public life can be, you have only to look at Nagaland. In many aspects, the north-eastern state does very well for women: lowest crimes against women; child marriage is virtually unknown," writes Namita Bhandare in Hindustan Times.
"Since the history of the state which was formed in 1963, this is the number of women who've been elected to the assembly: 0." Not just that, "This miserliness extends to urban local bodies."
That is why Bhandare points out to how, earlier this month, "an exasperated two-judge Supreme Court bench hauled up the state's advocate general, KN Balagopal for Nagaland's failure to hold urban body polls with 33% of seats earmarked for women, despite a 2011 go-ahead from the Gauhati high court…
"The judges continued: 'It is shameful to defeat the rights of women like this. Will they wait for a lifetime for you to do something? We are shocked at how you can do this."
Just how did things get to this point? "The state's male-dominated tribal bodies have opposed the entry of women in the public sphere claiming that it goes against their customary laws to do so. As a concession, some conceded that if at all women were going to contest elections then it would be the men who would decide which women could contest. And, so, the 33% reservation in place elsewhere in the country has never been implemented in the state."
While there is much to learn from Nagaland and the North East on how to treat women, clearly, Nagaland and the rest of India has much thinking to do because enacting laws and lip service alone won't move the needle much.
Dig deeper
Why Nagaland continues to shut women out of politics
Managing influences
We now live in a world surrounded by influencers who have advice to offer on pretty much everything. Their presence and commentary on all things we search for is now ubiquitous because the world is hyperconnected. Is staying impervious to influencers a choice? Yes. It is possible to do that. And we must consciously work on it. This is a school of thought that thinkers such as Cal Newport argue and we have pointed to his books and essays on why this matters in earlier editions of this newsletter.
But there are nuances that Ian Leslie, an author and speaker on human behaviour, highlights on his blog. It got our attention. "Being influenced by others is inevitable and essential. But it's also true that when we over-conform to influences, we surrender individuality. We get infected by harmful behaviours: smoking, anorexia, even suicide are all subject to social influence. We swallow conspiracy theories and false beliefs. We become mindless creatures of habit unable to imagine new possibilities. Conforming to influence can generate anxiety: we become worried that we're not conforming well enough. There are externalities to be considered, too. Over-conformity is a kind of free-riding. The over-conformer takes from the shared pot of memes but fails to contribute to it. A society with too much imitation is liable to decay and degenerate, because it stops creating, thinking and innovating."
How are we to deal with it? There are many pointers Leslie has to offer. This includes, one on interrogating who influences us. "We all have favourite influencers and influences—people we know, celebrities, artists, friends, writers, and uh, influencers. Books, TV shows, movies. Most of the time we're happy just to accept that those are the people and things we admire and seek to emulate. But what artistic careers show us is the importance of pondering those influences, asking what's good and bad about them, and how we might want to be different from them as well as how we want to be the same. How can you take what's great about your favourite influences and yet go beyond them at the same time?"
Dig deeper
The real struggle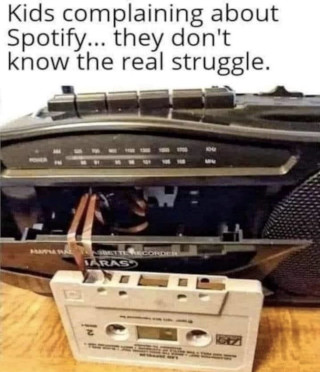 (Via WhatsApp)
Warm regards,
Team Founding Fuel