[Photo by Heera]
As we ascend by car from Mussoorie, the landscape begins to change. The concrete jungle—the fate of many a hill station—recedes and the mountain landscape of Landour, about 984 ft above Mussoorie, with its pine, oak and deodar trees, begins to dominate our senses. In just about 30 minutes (35 km and over 2 hours from Dehradun), we are transported to a quiet world. Birdsong and clear air rather than the sounds of traffic and fumes.
Our guesthouse, Casa Eden, at Bataghat, sits literally on the road. Yet, it is quiet. It's brand new, and our hiking group of 12 are the first guests. We chose Casa Eden because it's a budget option in a place where hotels tend to be premium, but mostly because it's close to Jabarkhet's main entrance—in fact, a backtrail into the private nature reserve leads off from just behind the guest house. All the rooms have large windows overlooking the forest.
This hiking holiday was the culmination of our 7-week journey with slow fitness. Called Fit to Trek, the programme led by holistic fitness coach Abhishek Sharma had gotten us fit enough to, well, trek. And here we were. All 12 of us were clear that we wanted to be close to nature, not in some hill station milling with the usual tourist traps.
Jabarkhet
Landour is perfect. It is accessible—just 35 km from Dehradun which you can reach by train or a flight—and it is quiet.
We start every day with a short yoga session on the terrace of the adjoining Mudcup Cafe, followed by a walk. One day it's just a short walk, with frequent halts to soak in the air and the view. Another day, we take a shortcut along the edge of the forest to the main bazaar, Char Dukaan, and follow it up with another hike over the steep winding lanes that pass Doma's Inn and Ruskin Bond's house. On yet another day, we hike the jungle trail in Jabarkhet with forest guides.
Jabarkhet is an oak, pine and rhododendron forest. It is home to some 100 varieties of mushrooms, wildflowers, leopards, barking deer, gorai, black bears, porcupines and a variety of birds.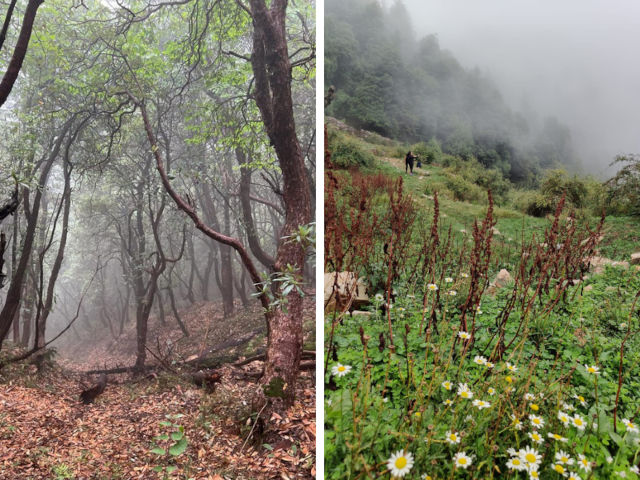 [The forest, by Deepika Amin; wildflowers by Sveta]
Under the British, it was contracted out for charcoal from wood to meet the needs of Mussoorie town. Some 300 acres of the original 900-odd acres makes up the nature reserve. The forest we see today is a secondary forest—growing from the original felled trees.
Every now and then we pass a charred pine tree. Pine resin is flammable and we're told pine trees go up in flames very fast. But the rhododendron trees are natural fire breakers. The pinkish-brown bark holds a lot of moisture and moss grows easily on it. We feel it for ourselves—how spongy and moist the bark is.
As we walk the trails, made spongy with compost from decaying fallen leaves—and oh so comfortable to walk on—our guide gently scolds us to be quiet, to even walk in a way that our feet make little sound. We are on the leopard trail, in the forest's core. There's a deep gorge off one side of the trail. So deep that we can't quite see the bottom.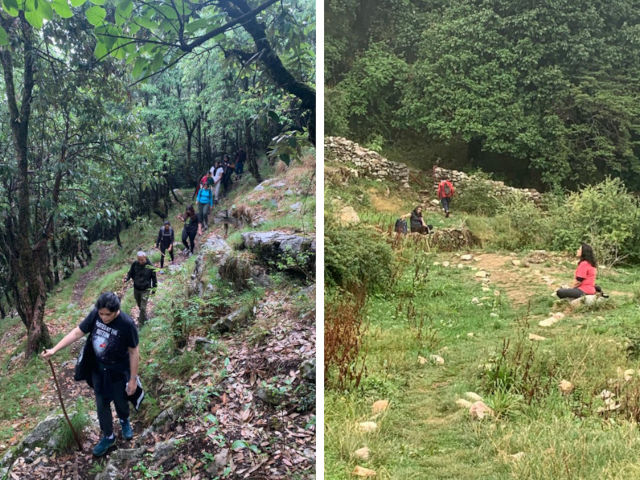 [Hiking and soaking in the forest. Photos by Heera]
As we try to be silent—and it's incredibly hard to quiet ourselves—at first all we hear is silence. The stillness slowly seeps into us and our pace slows, as does our breathing, and we all naturally fall into silence.
We decide to sit quietly for a bit, on rocks, on the trail itself, anywhere. And slowly the forest begins to speak. A bird starts talking. We hear three distinct calls. At first we think it's 2-3 birds talking, but the guide tells us it's all the same bird. I am reminded of Ramki's essay on birdwatching and how cultivating silence is important for that. Then, crickets break out in chorus. Somewhere in the distance we hear what sounds like a growl. A leopard? The guide whispers, langurs. Leopards are shy animals and hide in the presence of such a large group of humans. He shows us a photo captured by a motion sensor camera mounted on a tree just where we've halted. Sure enough, a little later, we are able to discern a rustle in the treetops and langurs at play. (We were instructed not to carry any snacks, anywhere in Landour, because monkeys will snatch it away.)
We resume our walk and are fascinated by a silver star by the trail—a star mushroom, which is poisonous.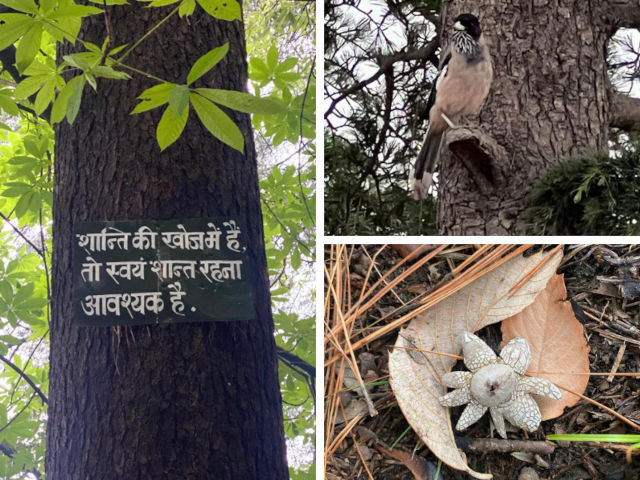 [Clockwise from left: Silence, by Abhishek Sharma; a bird responds, by Deepika Amin; the silver star, by Abhishek Sharma]
The walk ends at a hut near a clearing, where we have the best chai in all of Landour.
The clearing has logs arranged in a circle. We decide to continue our dialogue with the forest and our inner silence, as the guide bids us farewell.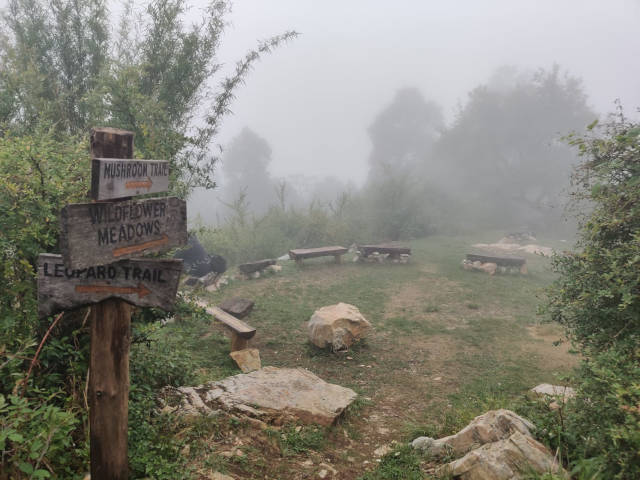 [A clearing at the end of the Jabarkhet trail. By Sveta]
Veering off the Landour Loop in search of Ruskin Bond
Before we did the Jabarkhet guided trail, we'd decided to do the only touristy thing one can do in Landour—walk the Landour Loop, or the Infinity Walk. The paved walking trail is in a figure 8 configuration, with Kellogg Church and Char Dukaan at the centre. It's a mostly flat walk and fairly easy to do. Avoid it on a weekend if you want to soak in the silence of the mountains.
This was supposed to be our easy warm up on Day 1. Our guesthouse is a fair distance from Char Dukaan. We were pointed to a shortcut that would cut it in half. And like most shortcuts, this was a demanding enough hike. I learnt the trick of pacing my steps to my breath. Something we'd been learning in our fitness classes. Basically, take short steps and don't let your breathing change. If an inhalation lasts 4 steps and an exhalation also 4 steps, then walk in a manner that maintains that pattern. Once I got the hang of it, I found I wasn't getting breathless so easily while going uphill.
We reached Char Dukaan—literally "four shops", though it's a bit more than four now and almost all of them serve snacks like momo, pizza, pakora, pancakes, rather than lunch.
But if you want a taste of local cuisine, a visit to Hill's-e-Ishq is a must. It's close to the Jabarkhet entrance. The Garhwali thali is recommended. It has kulath dal (horse gram) soup (we are told, a tonic for the kidneys), ragi roti, red rice, saag made from stinging nettles (who knew!), raita, and kheer made of barnyard millets. We also ordered a side of kebabs also made of stinging nettles and served with a chutney made of bhang (cannabis/hemp) seeds. Like poppy seeds, they are non-intoxicating.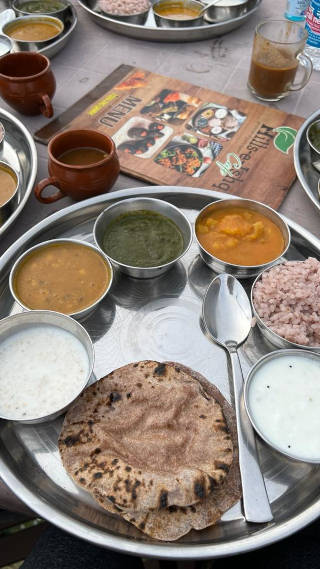 [Photo by Deepika Amin]
A very short distance from Char Dukaan is St Paul's Church. The unique thing about the church is the grooves cut into the pews for rifles. The story goes that during the 1857 Rebellion, rebels would steal the guns the devout had to leave outside the church. So, the church made an exception allowing them to carry their weapons inside. The church grounds are inviting. We sit on the grass, enjoying the cool breeze, the sunlight and scent of pine.
Our plan was to walk the Upper Chakkar of the Loop, to Lal Tibba, the highest point with grand views of the mountain ranges. In September-October you get clear views of Nanda Devi, Kedarnath, Badrinath and Banderpunch, among others.
But someone mentions Ruskin Bond's house is not far from where we are, so we get greedy and decide to at least walk past. That road veers off the Loop and is steep and winding. We first come to Doma's Inn, with bright Tibetan murals and graffiti on its wall. And just around the corner is Ivy Cottage—an ordinary looking structure with a narrow red staircase. Bond lives in the apartment on the first floor. While we didn't meet him (but of course), the breathing-pacing trick saw me through that steep hike.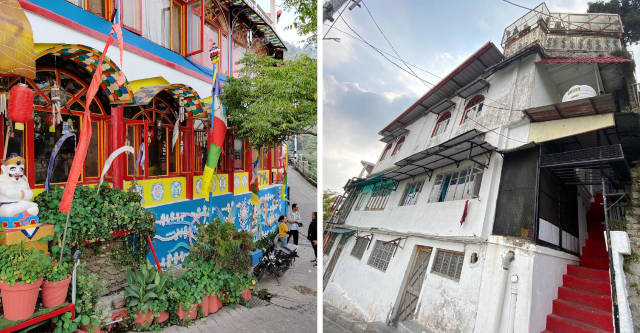 [Doma's Inn with its Tibetan mural, photo by Sveta; Ivy Cottage, Ruskin Bond's home, photo by Aayush Kulshreshtha]
By evening we found ourselves at Firs Estate, which is run by Ashish Pradhan and funded by the Assemblies of God Foundation. The estate covers 25 acres and also supports a children's home. Nitin Ahuja, our host at Casa Eden, volunteers here. The estate also supports itself by renting out 3 cottages to visitors—Hawk's Nest (double room), Eagle's Nest (for a family of 4), and Divine Firs Estate (3 bedrooms). In addition, it owns La Villa Bethany, a homestay operated by Sunita and Amarjeet Kudle, and Casa Eden, where Nitin is in charge of guest experience.
We are exhausted after our 12+ km hike first through the forest shortcut and then through the steep lanes in search of Ruskin Bond. There are jokes flying around that our coach is going to have rebellion on his hands and that "MLAs are going to defect". But he just smiles and convinces us that for fast recovery, we must do a cooldown workout followed by a good 20-30 minutes of stretches. The cooldown workout takes the form of a game of handball with kids from the family renting one of the cottages joining in. And indeed, the laughter, the friendly competitiveness, and yoga in the mountains, under the open sky, feels like an antidote, as does the view of a lit-up Mussoorie in the distance.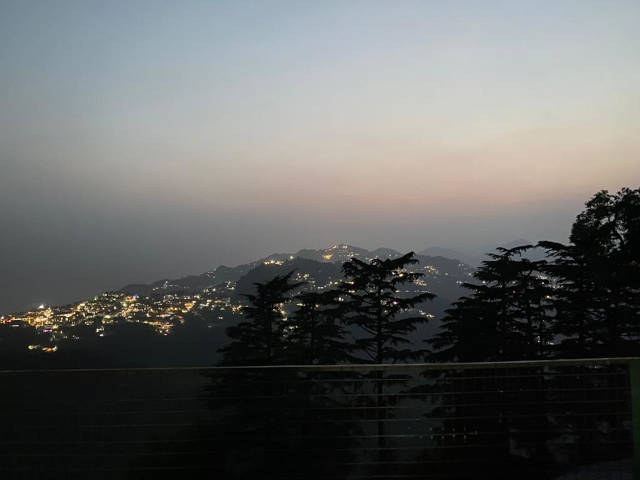 [A lit-up Mussoorie. Photo by Aayush Kulshreshtha]
Life in the hills
Nitin and his wife Sakshy moved to Landour just about a year ago. They are from Delhi—from Lajpat Nagar, one of the most bustling market neighbourhoods in the capital. Within a few months they'd decided they're not going back!
Nitin first came here in 2020, after the second lockdown had been lifted. He'd lost 5 family members to the virus, and needed a reprieve. He was just 29, newly married, "and looking at a dead-end". What was meant to be a 3-day retreat at Firs Estate turned to 16 days.
In September-October that year he came back for another 45 days at Firs Estate. And finally, in yet another 2-day visit, he offered to pay Pradhan 2 years' rent upfront and use that time to figure out what next. It just so happened that Sunita and Amarjeet heard his story, and with their support, his work at Casa Eden and his work with the children at the estate, he's finding his own ground. Remote work makes it possible for Sakshy to continue with her corporate job from Landour.
After experiencing Landour even over these few days, I can understand the allure. Why Ruskin Bond chooses to live here, why Vishal and Rekha Bharadwaj choose to spend most of their time at their home here, and why writer Ganesh Saili (author of Ruskin Bond: The Mussoorie Years) also calls it home.
Saili captures the charm of the town when he calls his "backyard" a "little town perched 1 mile high in the sky…and has the highest concentration of living authors anywhere."
On the hike around Bond's house, as we pause to admire the view and listen to the birds (and rest a bit), we notice a wizened old man sitting on the parapet. There's no tea shop or house in sight, so it's safe to assume he's walked up the same path we're struggling on. We stop to chat. He's 82, ex-Army, and he walks 10-odd km everyday—it's no big deal for him. And then he says he's actually from Pune and bought a parcel of land here in 1986 and never went back.
Many of us in the group have the same thought. "One day soon, I'll move out of the choking city."
Nitin tells me that in winter, Landour falls truly silent. The town is breath-taking after a snowfall. Even Firs Estate falls silent as many of the children go back to uncles and aunts; even the birds fall silent.
He says, in the monsoons, it can rain 14-16 hours at a stretch. Leeches come out in Jabarkhet. (The forest guide assures us they're harmless. They do provide leech socks but "the amount of blood one typically donates can feed 100 leeches". I believe him, but don't want to find out for myself!) Anyway, Nitin says, one would think Landour in the rains will be boring. There's nothing to do. But in fact, you should come to Landour to do nothing. He says, bring a book, or just sit by the window and watch the mountains changing as they play peek-a-boo with the rain and the mist.
We did catch a glimpse of that as there had been some pre-monsoon showers. The rain gods were kind and gave us dry days. But the mist and clouds were ever present. Some mornings, as the thick mist (and yes, mist! Not the noxious Delhi smog) swirled around us in our yoga sessions, it felt like we were in the midst of clouds.
Finally, in the loop!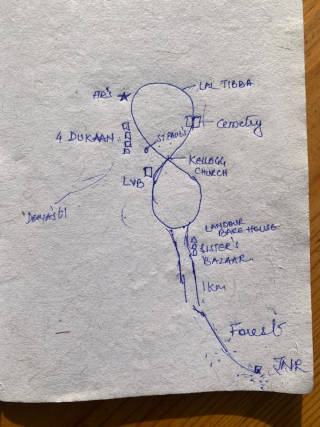 We did manage the Infinity Walk on our last day in Landour. Tired from all the hiking, we had decided to take a taxi up till Lal Tibba. And we yet again learnt an important lesson: we control nothing, so go with the flow.
We were caught in a traffic jam (it wasn't due to lots of vehicles on the road, but because one car broke down at an awkward turn). Rather than sit in a car going nowhere, we decided to walk up, halting at every turn. From the car, we'd have missed the hydrangeas growing wild by the hillside, below the road, or the chat with an elderly gentleman, who "lives in Landour for now" walking his two adopted stray dogs.
It is only fitting that I should end this with this poem from Ruskin Bond:
It Isn't Time that's Passing
Remember the long ago when we lay together
In a pain of tenderness and counted
Our dreams: long summer afternoons
When the whistling-thrush released
A deep sweet secret on the trembling air;
Blackbird on the wing, bird of the forest shadows,
Black rose in the long ago summer,
This was your song:
It isn't time that's passing by,
It is you and I.
What I bring back with me to the city is that silence and the reflection it catalysed.
Travel Planner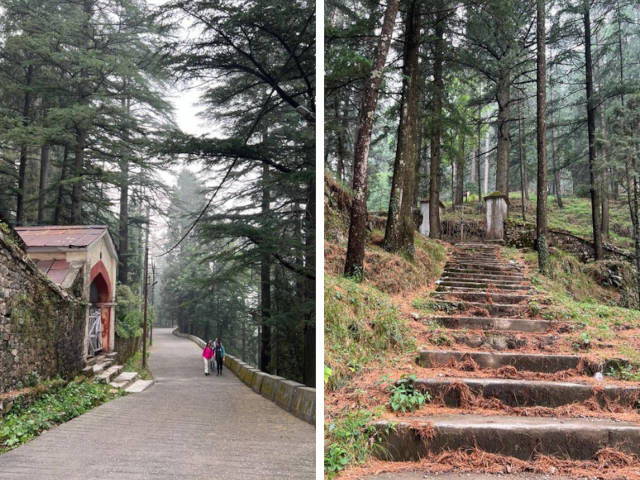 [On the Loop, to the cemetery and the meadow. Photos by Deepika Amin]
Go there for: The silence of the hills, a hike in the forest and on quiet walking paths. Timeout and tune-in to yourself.
How to get there: Flight to Jolly Grant airport, Dehradun, or train to Dehradun. (We took the Shatabdi from New Delhi railway station and the last leg between Haridwar and Dehradun passes through a forest; the train slows down quite a bit on this leg). And then a ~2 hour taxi ride to Landour.
Must try
A guided walk through Jabarkhet.
Local cuisine at Hill's-e-Ishq
High tea or a meal at Rokeby Manor—the ambience is great; they also manage the Bakehouse which shows up on every Landour travel recommendation.
A walk past Ruskin Bond's house, though chances of crossing paths with him are slim.
St Paul's church.
The walk past Lal Tibba, that takes you past a very picturesque parsonage, an old cemetery, and on to a meadow.
Where to stay
Budget option: Casa Eden, at Bataghat. It's on the road, but every room, big or small, overlooks the forest.
Cottages: The cottages at Firs Estate (Divine Firs Estate for 6 people, Hawk's Nest for 2 people and Eagle's Nest for a family of 4).
B&B: La Villa Bethany
Premium: Rokeby Manor
Editor's Note: Part 2 in this series will be on Shillong and some parts of North East India. The author revisits his birthplace after decades and his family reflects on the town then and now.