[Image by Velna BORGEL from Pixabay]
Good morning,
Drew Dudley, a leadership educator and the author of This is Day One, tells a fascinating story from his college days in a TEDx Talk. He tells it from the perspective of a girl who appeared before him on his last day at his university and told him what happened to her on the first day in the university.
On her first day, she was standing in line for registration. She was scared and was convinced this was not the place for her, and was just about to leave once and for all. Just then, she noticed Dudley, with a hat on his head, with a sign in his hand promoting a cause he was passionate about then, and handing out lollipops from a bucket to people in the line.
Continuing her story, the girl said to him: "And all of a sudden, you got to me, and you just stopped and stared. It was creepy. And then you looked at the guy next to me, you smiled, reached in your bucket, pulled out a lollipop, held it out to him, and you said, 'You need to give a lollipop to the beautiful woman standing next to you.'
"I have never seen anyone get more embarrassed faster in my life. He turned beet red, and he wouldn't even look at me. He just kind of held the lollipop out like this (hands stretched, eyes looking away). And I felt so bad for this dude that I took the lollipop, and as soon as I did, you got this incredibly severe look on your face and you looked at my mom and dad, and you said, 'Look at that. First day away from home, and already she's taking candy from a stranger?!' "
Everyone laughed, and at that moment, she decided she wouldn't quit. She went on to finish her education, and marry the guy who was embarrassed to handover the lollipop.
The twist in Dudley's tale is that he had played such an important role in the life of that girl, and he didn't remember that incident at all. He calls it the lollipop moment.
Dudley's point is that leadership is not about big things, not about changing the world. It's having impact on individuals and making their lives better through the lollipop moments. You can watch the TED Talk here. https://www.youtube.com/watch?v=hVCBrkrFrBE
In this issue
We present to you the latest edition of FF Recommends, where we look at the best lighting solution and tips for video calls.
We have an extract from a lecture by the brilliant William Deresiewicz on why solitude and leadership are deeply connected, and how to think for ourselves.
And finally, we offer a bunch of screenshots from Twitter that gives us some insight into how social media works. (It's all good.)
Have a fantastic Sunday

FF Recommends | Light tips on lighting
A few Sundays ago, we wrote about the headset solutions our team finds the best for our extended video sessions—our masterclasses, and our various Zoom calls which all add up to as much as 5-6 hours a day on Zoom. Today, we have lighting solutions that we've found work best for us.
Kavi Arasu: If you spend a lot of time running meetings online, lighting is an important factor for you to consider. Shadows, dark patches and uneven lighting obscure facial expression. In the absence of body language, people on video calls rely on facial expressions for complete meaning. Lighting can make or mar your message.
I vary my lights according to the type of meeting and the time of day. Webinars that I lead and other meetings that I chair in the evenings, often have brighter lights on. In regular team meetings where people know me well, I try and switch off the camera to focus better.
I try using daylight as much as possible and position my camera accordingly. For every other time, I remember what the Bible says: Let there be light!
NS Ramnath: I recently bought a Wipro Garnet 6W LED Table Lamp.
Before I went for the LED table lamp, the best lighting I ever got was natural. I placed my laptop on a foldable table and sat facing the window. However, there were two problems with it. One, I had to shift myself away from my regular work table, and setting it all up was a bit inconvenient. Two, it worked only during day time, and even then, the intensity of the light varied—sometimes, despite or because of the adjustments software made, the screen looked too bright or too dark. The wall-mounted lights were consistent, but they are not exactly designed for Zoom video calls.
Then I ordered the Wipro Garnet from Amazon. I knew I was taking a risk because none of the reviewers had tried it as lighting for video conferences. I went ahead anyway because I had two other uses for it even if it didn't work as a video light (as a regular table lamp, and as lighting for food photography). It ended up working very well as a video light too.
What I liked about the product? One, as promised, the lighting is really soft and glare-free. That's important because you will be focusing it on your face. You can make it brighter or dimmer by pressing on the touch switch. Two, it also has three colours—Cool Day Light, Neutral White, and Warm White. For me, at least, warm white seemed to work best for video calls. Three, it sits well on your desk and its neck is pretty flexible, so you can adjust for the perfect angle. (I liked its design too.) It comes with an adapter and 4.75 feet cable. (It's not battery operated.)
My colleague Kavi suggested that I go for a second lamp for even better results. And, no surprises there, he was absolutely right. (Only make sure you have enough plug points.)
Anmol Shrivastava: What I enjoy the most about my role at Founding Fuel is designing and improving user experience. An important element is ensuring that the speakers we invite look great on video.
Some already have a great setup in place—like Ashish Vidyarthi, who has mastered the art of storytelling in 16:9 format.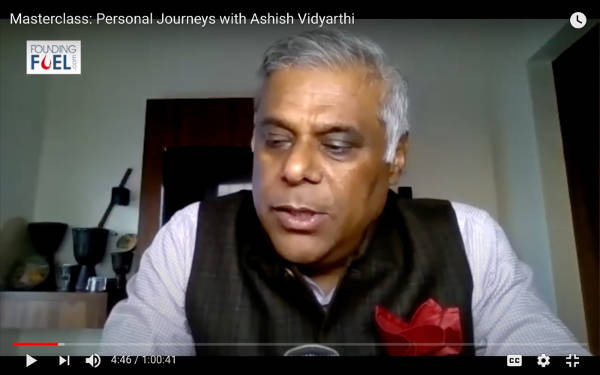 But replicating this is not easy. Because each speaker has a different setup at home. So our attempt is to extract the best from the resources they have.
We focus on getting the basics right: where do they sit with respect to the lighting, how do they frame their video, what should the angle of the camera be so that it appears they are looking at the guests and not into the screen, and so on. (This guidelines document has some of the tips we recommend to our speakers.)
A few days after preparing and operationalising this presentation, as I was basking in my own little glory of moving the needle on video production by a few steps, Kavi dropped the truth bomb on me.
He said that perhaps I should look at my own video setup and improve it. Kavi was not wrong when he pointed to all of us that some portion of the respect one draws in the age of the pandemic is how great one looks on Zoom—humans are wired to factor in appearance in their judgement.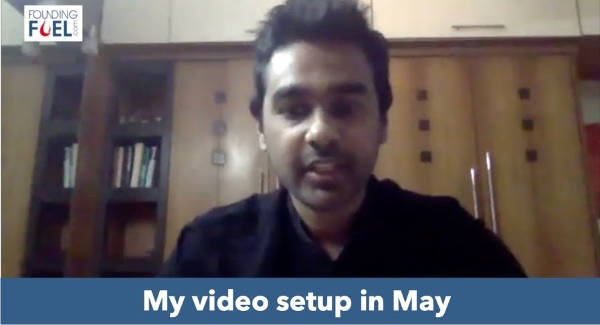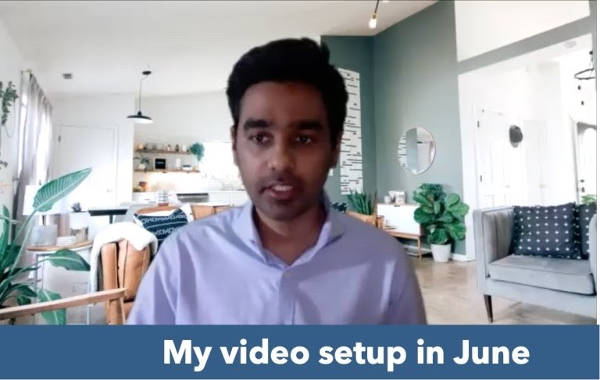 Eating my own dog food then became important. My personal challenge is that my room has no easy place to mount a light bulb or lamp. Even my desktop is wall-mounted and I don't have a work desk. Unfortunately, the largest light in the room—a tube light—is on the wall right opposite the desktop. I can't switch it on—for all the reasons Kavi mentioned—as it will distort the video. Calling an electrician to custom set-up light is not an option given the risks involved at this time.
So while I have not gotten it fully right, here are my temporary workarounds:
A Rs 400 light. I have placed it so that it leans on my speakers at the edge of the room, improving some aspects of the light. Notice how the light is placed quite far away and at an angle to where I sit. This minimises shadows from affecting the video. (Product link is here.)
A virtual background which ensures at least the background is well lit—so that the video itself appears well-lit. (Virtual backgrounds only work if you have a high-performance computer. Of course, you can also buy a green screen so the virtual background is lag-free as you move in the video.)
A chance discovery: I noticed that a large part of the lighting on our face is actually the light coming from our own screen, especially if we have a desktop or a laptop with a large screen. So now I pin my own video and keep my screen at full brightness. The difference in the lighting on my face is significant.
Why leaders should seek solitude
In an insightful lecture at the United States Military Academy at West Point in October 2009, William Deresiewicz, essayist and critic, made a case for solitude and deep thinking. This is how he ended the lecture.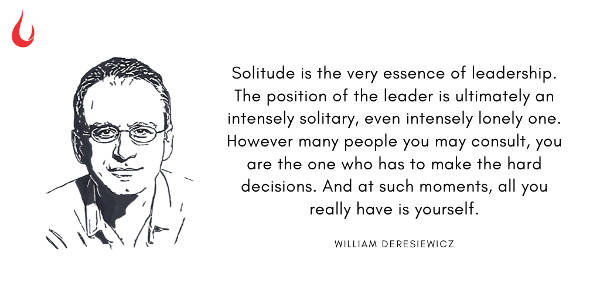 Earlier in the lecture he dealt with habits that come in the way of thinking for oneself.
Deresiewicz said: "Multitasking, in short, is not only not thinking, it impairs your ability to think. Thinking means concentrating on one thing long enough to develop an idea about it. Not learning other people's ideas, or memorizing a body of information, however much those may sometimes be useful. Developing your own ideas. In short, thinking for yourself. You simply cannot do that in bursts of 20 seconds at a time, constantly interrupted by Facebook messages or Twitter tweets, or fiddling with your iPod, or watching something on YouTube."
His lecture is available in the form of an essay in The American Scholar. Read it here.
How knowledge evolves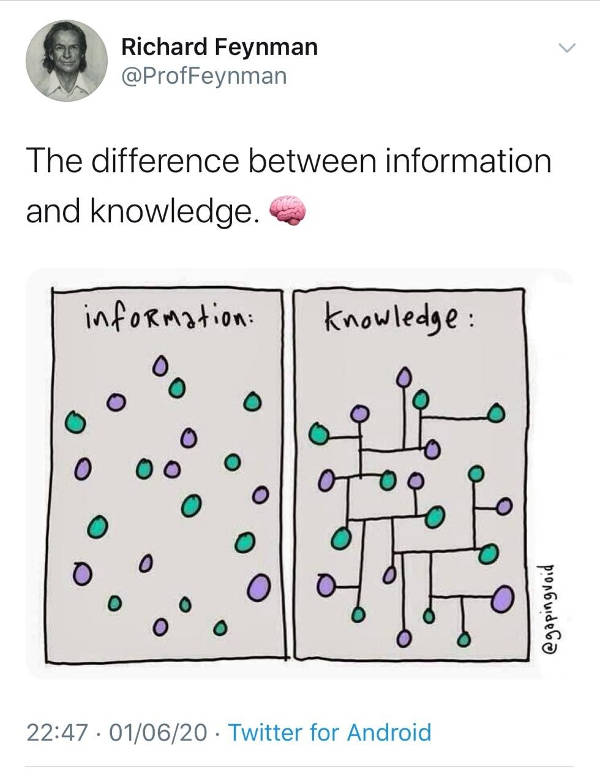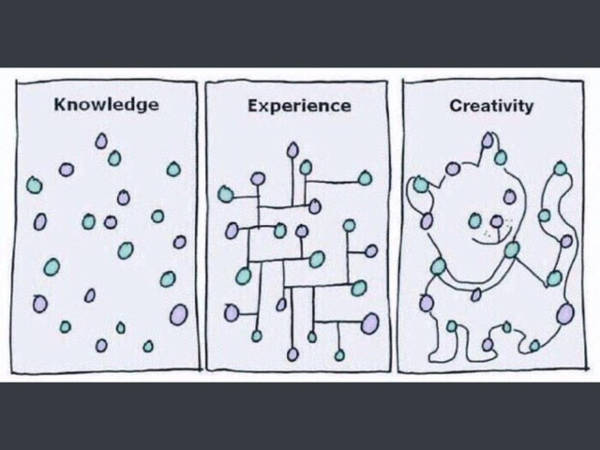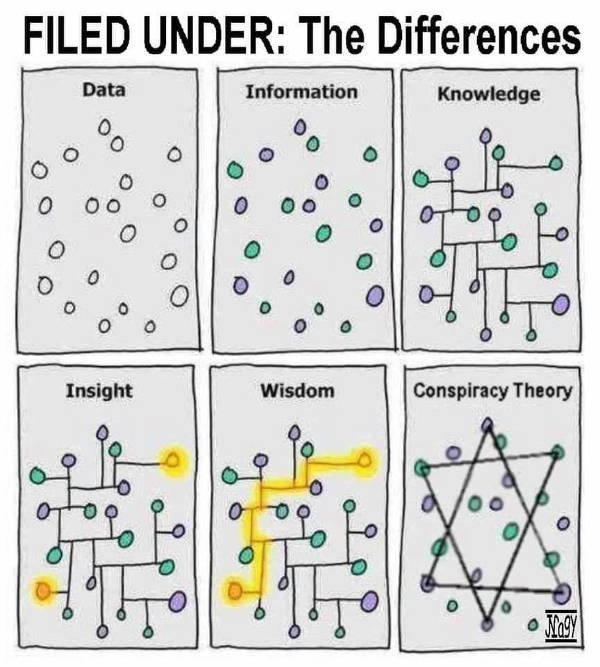 What are your favourite data visualizations? Share them with us, or share it on Twitter, tagging @foundingf. Or head to our Slack channel.
And if you missed previous editions of this newsletter, they're all archived here.
Bookmark Founding Fuel's special section on Thriving in Volatile Times. All our stories on how individuals and businesses are responding to the pandemic until now are posted there.
Warm regards,
Team Founding Fuel