[Photo by Headway on Unsplash]
The pandemic is inflicting a toll on our ability to communicate. How may we get better at it then? Chris Anderson, the curator of TED Talks, has timeless wisdom to offer in TED Talks: The Official TED Guide to Public Speaking.
" 'Great writing is all about the power of the deleted word.' It's true of speaking too. The secret of successful talks often lies in what is left out. Less can be more," Anderson writes. What does he mean by that?
One of the most popular TED speakers, Brene Brown, recommends a simple formula. "Plan your talk. Then cut it by half. Once you've grieved the loss of half of your talk, cut it another 50%."
How are we to do it?
Sir Ken Robinson is one of the most viewed TED speakers of all time and his talk filmed in 2006 has attracted over 65 million views until now. He told Anderson he follows a structure that allows him to get to the point.
Introduction—getting settled, what will be covered
Context—why this issue matters
Main concepts
Practical implications
Conclusion
Then there are others who may want to highlight an issue such as gender discrimination or a health crisis and think a structure such as this limiting. If they stay focused on the issue though, people tune out eventually on account of "compassion fatigue". That is why Anderson's colleague June Cohen recommends another framework to take the point across to audiences. Place it as an idea.
An issue-based talk leads with morality. An idea-based talk leads with curiosity.
An issue exposes a problem. An idea proposes a solution.
An issue says, "Isn't this terrible?" An idea says, "Isn't this interesting?"
In this issue
The Rajat Gupta Saga
Ghosn with the wind
Where to cry
The real Rajat Gupta story
While on how to communicate, Rajat Gupta's narrative is an incredible one. Once upon a time, people knew him as the first foreign-born MD of McKinsey & Company, a board member of entities such as Goldman Sachs, P&G, advisor to not-for-profits like the Bill & Melinda Gates Foundation and was part of the brain trust that thought up the Indian School of Business (ISB).
Things changed in 2012 when he was found guilty of insider trading and was sent to prison. Soon after his term was done, he wrote a memoir titled Mind Without Fear and travelled to India on tour to promote it. Everyone wanted to meet him.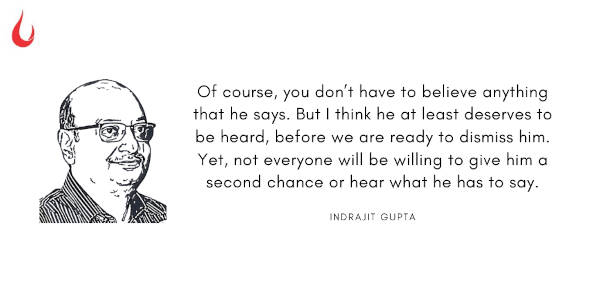 Our co-founder Indrajit Gupta (IG as we all know him) had met him in the past and recalls grappling around how to engage with Rajat Gupta. "The challenge was to penetrate the facade of sophistication and studied calm. And surface a hint of emotion and feeling," IG wrote after meeting with Gupta.
Close to an hour of conversing with him later, IG got what he wanted. The facade cracked and in a rare emotional outburst Rajat Gupta opened up, "When I was down, they kicked me in the face." It was a reference to his former workplace.
Quick Take: Everyone has a story to tell. You just need to know how to get it out of them.
Dig Deeper
Ghosn with the wind
Much like Rajat Gupta, Carlos Ghosn's escape from prison makes for a jaw-dropping read.
Once upon a time, Ghosn's reputation preceded him. After turning around a bankrupt Nissan in the late nineties he was hailed as Businessman of the Year by Fortune several times and surveys jointly published by Financial Times and PwC placed him in a pantheon of the most respected business leaders globally. The bubble burst when he was arrested in Tokyo last year on charges on misappropriating $80 million to fund his lavish lifestyle.
But in an account that reads straight out of a Hollywood movie, Vanity Fair magazine documents in meticulous detail how Ghosn and friends connected with Michael Taylor, a battle hardy American combat veteran, to plan a complex operation that ran across continents and countries to smuggle Ghosn in a cargo container far away from the enforcement authorities in Japan. Taylor is now behind bars and got conned by Ghosn.
Dig Deeper
Where to cry
Do you think you are among those who share all your woes on social media? If you are, here's a message from some irritated souls.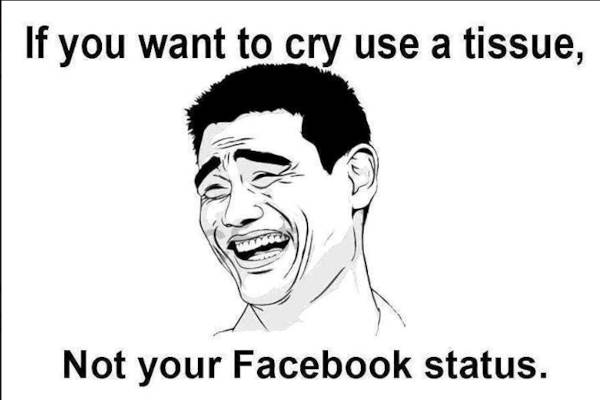 (Via WhatsApp)
But if you think it's perfectly fine, tell us why it is—on email, or on Twitter tagging @foundingf. Better still, join the conversations on our Slack channel.
And if you missed previous editions of this newsletter, they're all archived here.
Bookmark Founding Fuel's special section on Thriving in Volatile Times. All our stories on how individuals and businesses are responding to the pandemic until now are posted there.
Warm regards,
Team Founding Fuel