[This artist's concept shows a black hole with an accretion disk—a flat structure of material orbiting the black hole—and a jet of hot gas, called plasma. Using Nasa's NuSTAR space telescope and a fast camera called ULTRACAM on the William Herschel Observatory in La Palma, Spain, scientists have been able to measure the distance that particles in jets travel before they "turn on" and become bright sources of light. This distance is called the "acceleration zone." https://photojournal.jpl.nasa.gov/catalog/PIA22085 Credit: NASA/JPL-Caltech]
Good morning,
We woke up yesterday morning to some heart-warming news—that Roger Penrose has finally, finally, been awarded the Nobel Prize for proving black holes exist.
"The award to Penrose is a bit of a surprise because it has come so late. In fact, I had thought he would never be given the award, just like (Stephen) Hawking, his collaborator on the work on black holes, never was. Most of his work on black holes came in collaboration with Hawking. The two have had a long association over several decades. It's difficult to separate one's work from the other," Somak Raychaudhury, director of the Pune-based Inter-University Centre for Astronomy and Astrophysics (IUCAA) told The Indian Express.
In a short piece that Raychaudhury wrote in The Telegraph, he described how Penrose's work had an India connection.
"Amalkumar Raychaudhuri, a young teacher at Calcutta's Ashutosh College in 1955, had developed a mathematical formulation that served as an elegant basis for the research by British physicist Roger Penrose a decade later that brought him the Nobel Prize on Tuesday.
"The Calcutta physicist's formulation, known as the Raychaudhuri equation, sought to quantify certain but tricky aspects of geometry with widespread use in Albert Einstein's general theory of relativity, essentially a geometric description of distortions and bends in space and time.
"Penrose teamed up with the celebrated late British physicist Stephen Hawking and used the Raychaudhuri equation for a mathematical description of black holes—objects with such intense gravitational pulls that not even light escapes them—and singularities, extreme situations where laws of nature break down.
"It is for these singularity theorems that the Nobel committee awarded Penrose the prize, citing that he showed that… at their heart, black holes hide a singularity in which all known laws of nature cease.
"Without Raychaudhuri's formalism, and Hawking's early work connecting it to black holes, this work of Penrose may have not happened at all."
Click here to read Somak Raychaudhury's full account.
Have a wonderful day!
In this issue
Nitish Kumar and the art of war
Mouli: A marketer par excellence
A new kind of earnings
Nitish Kumar and the art of war
As Bihar heads for elections, crucial for the state, and crucial for its chief minister, Nitish Kumar, Charles Assisi paints the picture of the enigmatic man who keeps his cards close to his chest, and eyes firmly focused on power. This image emerged from a long conversation Charles had with Sankarshan Thakur, National Affairs Editor at The Telegraph and author of The Brothers Bihari.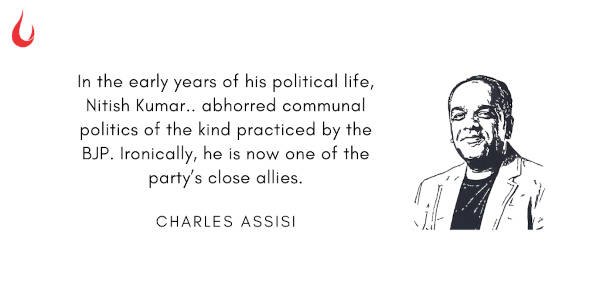 Charles writes: "Thakur's deeply intimate portrait of Nitish Kumar shows a conflicted man at odds with himself and those around him. He never utters a cuss word in public even when provoked; is deeply introverted; and given half a chance, would spend time with his books, not people.
"What I couldn't wrap my head around though is why did he ally with Narendra Modi? How did his socialist side embrace Modi's extreme right? The impression I got from Thakur's book is that of a man who cannot make up his mind and keeps vacillating. Then on the other hand, I have heard from others that not making up your mind is a strategy.
"The only person who could answer these questions was Thakur. And on listening to him, I figured that not making up his mind is indeed a part of Nitish Kumar's strategy. His closest aides don't know what rabbit may he pull out of his hat and when. But what Thakur did make clear is that Nitish Kumar's graph looks to be on the downward spiral."
Dig Deeper
Mouli: A marketer par excellence
It takes a great leader to spot exceptional talent. Bharat Puri, MD of Pidilite Industries, first spotted Chandramouli Venkatesan ('Mouli' to friends and colleagues) while addressing the incoming batch of management trainees (or MTs as they were called) at Asian Paints in 1991. An eager MT caught his eye.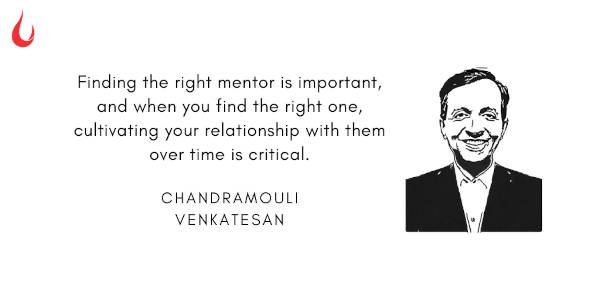 "Who's that guy asking the most questions? It was him (Mouli). Who had the best ideas? It was Mouli again. So we decided that this guy was an ideal candidate for a role in marketing," recalls Puri, in an interview with CNBC-TV18.
Puri had bet on the right person. In nine years, Mouli went on to head marketing at Asian Paints. Their paths crossed twice again. First at Cadbury (now Mondelez), where he rose to head Cadbury in India. And the second time around when he joined Puri as CEO (Special Projects) to help remake Pidilite. In both assignments, Mouli demonstrated a knack for creating new categories. This is always a tough task at well-established companies. At Asian Paints, he expanded the company's portfolio into exterior wall paints, launched Oreo biscuits at Cadbury and built waterproofing solutions, among others, at Pidilite.
The same unmistakable spark that Puri spotted was clearly visible to his batchmates at the XLRI campus. Except that Mouli never displayed any hint of intellectual superiority. Even when he breezed through the tough-as-nails and dreaded quantitative techniques (QT) course, while the rest of the batch struggled. "During our many group assignments, he had the special knack of patiently explaining complex concepts, distilling the essence and knowing how to communicate it simply," said Sudhir Nemali, a banker friend, based in Singapore.
All rounder Mouli's bowling exploits came to the fore when he helped the side win their annual fixture against IIM-C. Rahul Johri, his roommate and the XLRI's cricket captain, says the cricket ball remained a prized possession for many months on Mouli's bed in their room. Through that period, the cricket fanatic that he was, Mouli wouldn't tire of reflecting on why his bowling spell worked that day—or indeed, what could he have done to bag more wickets.
On Tuesday, when the news trickled in that Mouli had succumbed to pancreatic cancer, after being first diagnosed with the disease in April this year, it left his many friends, colleagues and well-wishers stunned by the suddenness of it all.
His was a life well lived. A Hindi film music buff, he managed to find time to author two bestselling books, Catalyst and Get Better at Getting Better. He chose to settle down in Mumbai's suburb Chembur, so that he could be near the golf course, and devote time to a game he had come to love.
And the human touch still mattered. Despite his busy schedule, he made sure he travelled to Singapore for Nemali's 50th birthday. He flew in from a hectic work trip from Chennai to Mumbai, asked his chauffeur to carry a suitcase of new clothes to the airport and exchanged the suitcase with his old clothes, before taking a connecting flight to Singapore. Johri says he would make time to chat with his son, a budding cricketer in the UK league, about mindset and attitude for nearly an hour.
With Mouli's passing, Puri has lost not just his long standing sparring partner, but a fine marketing mind with an infectious energy who loved to push the boundaries of growth. And of course, a great human being, respected and liked by colleagues and friends.
Dig Deeper
A new kind of earnings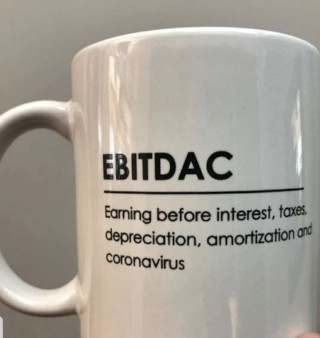 (Via WhatsApp)
Have you come across any coffee mugs that tell a narrative about the times we live in? Tell us about it. Head to our Slack channel.
And if you missed previous editions of this newsletter, they're all archived here.
Bookmark Founding Fuel's special section on Thriving in Volatile Times. All our stories on how individuals and businesses are responding to the pandemic until now are posted there.
Warm regards,
Team Founding Fuel