[Photo by Sarah Ardin on Unsplash]
Good morning,
The kind of times we live in, world over, liberalism is a much misunderstood idea and liberal thinkers are under continual assault. That is why, the much scrutinised writer and thinker Francis Fukuyama's most recent essay on the origins of liberalism and why liberals matter got our attention. He submits that if liberal values are not preserved, the longer term consequences can be disastrous. To make his point, he begins by defining the origins of liberal thought.
"Classical liberalism can best be understood as an institutional solution to the problem of governing over diversity. Or to put it in slightly different terms, it is a system for peacefully managing diversity in pluralistic societies. It arose in Europe in the late 17th and 18th centuries in response to the wars of religion that followed the Protestant Reformation, wars that lasted for 150 years and killed major portions of the populations of continental Europe.
"While Europe's religious wars were driven by economic and social factors, they derived their ferocity from the fact that the warring parties represented different Christian sects that wanted to impose their particular interpretation of religious doctrine on their populations… The founders of modern liberalism like Thomas Hobbes and John Locke sought to lower the aspirations of politics, not to promote a good life as defined by religion, but rather to preserve life itself, since diverse populations could not agree on what the good life was. This was the distant origin of the phrase 'life, liberty, and the pursuit of happiness' in the Declaration of Independence.
"The most fundamental principle enshrined in liberalism is one of tolerance: You do not have to agree with your fellow citizens about the most important things, but only that each individual should get to decide what those things are without interference from you or from the state. The limits of tolerance are reached only when the principle of tolerance itself is challenged, or when citizens resort to violence to get their way.
"Understood in this fashion, liberalism was simply a pragmatic tool for resolving conflicts in diverse societies, one that sought to lower the temperature of politics by taking questions of final ends off the table and moving them into the sphere of private life. This remains one of its most important selling points today: If diverse societies like India or the United States move away from liberal principles and try to base national identity on race, ethnicity, or religion, they are inviting a return to potentially violent conflict."
You can read the full essay here.
In this issue
China's Digital Silk Route
The transformation of DBS Bank
You get what you pay for
FF Exclusive: China's Digital Silk Route
Much has been written and said about the rise and rise of China. About how it morphed from being in the boondocks to the manufacturing capital of the world. Then there is much that has been said about China's ambitions to displace the US as the dominant force. But just how exactly is it going about it? And what does it look like from India? To help us understand that, we asked Dr G Venkat Raman, a Sinologist affiliated to IIM Indore, to unspool the narrative. Part 1 of his essay on how the battle between the US and China for tech supremacy is splitting the world was published on Founding Fuel last evening.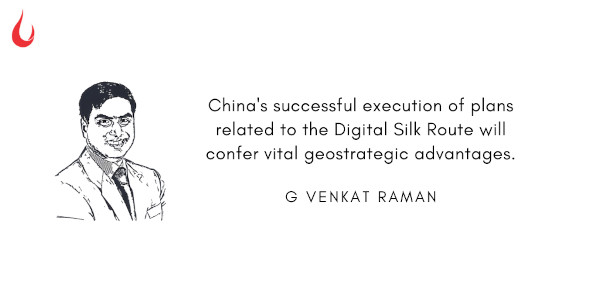 "Suppose there is no resolution of the US-China dispute, the world is likely to stare at a possibility where the internet world will be divided into two worlds. Some refer to this as 'one world, two systems'. According to this view, each of the two systems will be lorded by the US and China, respectively," writes Raman.
Why does this matter?
"The emergence of 'one world, two systems' in the digital space rests on the exponential expansion in China's indigenous technological prowess that threatens US dominance in this arena. A deeper understanding of the Digital Silk Route will help us appreciate China's current and potential tech arena capabilities. Digital Silk Route, the third pillar of the Belt and Road Initiative, refers to China's initiative to create a China-centric digital infrastructure by promoting homegrown technological corporations.
"This war is coming to India too," Raman writes.
Dig Deeper
Eat, Sleep, Innovate
You read that right. Eat, Sleep, Innovate: How to Make Creativity a Habit Inside Your Organization. That's Scott D Anthony's book that will be launched next week. Co-authored with Paul Cobban, Natalie Painchaud, and Andy Parker, the book has our attention because Anthony is director of Innosight, a strategy consulting firm co-founded by Clayton Christensen. Anthony is someone whom we have interacted with in the past and whose work we respect.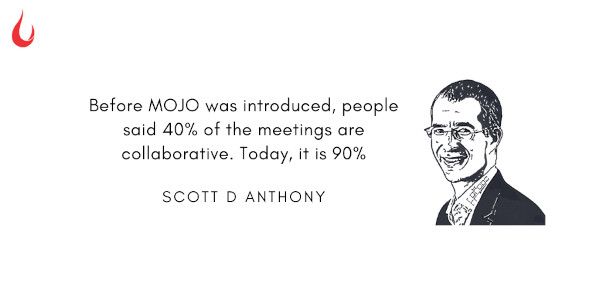 In the lead up to his book launch, Anthony has been sharing anecdotes from his experiences. By way of example, ten years ago, DBS Bank used to be a staid place with 26,000 employees and used to be ranked the lowest for customer satisfaction. Until a new CEO, Piyush Gupta, took over and it morphed into an entity that is now known to be among the most creative and innovative. Just how did that happen? The new boss introduced small changes that fundamentally altered the culture over time. Such as introducing tools like MOJO to run meetings.
The MO in MOJO is the meeting owner who is responsible for ensuring that the meeting has a clear agenda, that it starts and ends on time. The designated JO is intended to be a joyful observer. JO's job is to watch the proceedings and ensure people are present and participating. If they aren't, they can call timeout. After the meeting ends, participants provide feedback via an app on how well did MO and JO run the meeting.
Reports are generated and they are compared to their peers. DBS estimates it saved 500,000 employee hours by introducing this employee ritual. Whoever would have imagined that?
Dig Deeper
You get what you pay for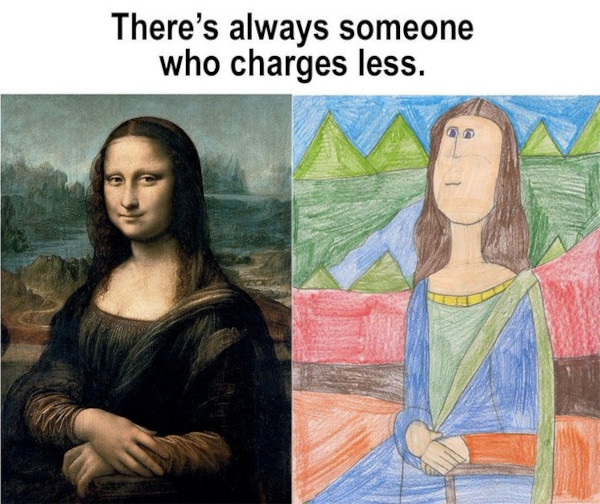 (Via WhatsApp)
A quaint way to say, "Don't be a cheapskate," isn't it? Or at least that's what we think. Unless you think there's some other meaning here. Let us know on our Slack channel.
And if you missed previous editions of this newsletter, they're all archived here.
Bookmark Founding Fuel's special section on Thriving in Volatile Times. All our stories on how individuals and businesses are responding to the pandemic until now are posted there.
Warm regards,
Team Founding Fuel