[Image by Gerd Altmann from Pixabay]
Good morning,
In Educating The Next Generation Of Leaders, published in the Harvard Business Review last year, Mihnea Moldoveanu and Das Narayandas, argued that in today's VUCA (volatile, uncertain, complex, and ambiguous) world, companies "need leadership skills and organizational capabilities different from those that helped them succeed in the past."
They said business schools should change. "Business schools will need to significantly rethink and redesign their current offerings to match their particular capabilities for creating teachable and learnable content and for tracking user-specific learning outcomes. They need to establish themselves as competent curators and designers of reusable content and learning experiences in a market in which organizations will need guidance on the best ways of developing and testing for new skills. Given the high marginal and opportunity costs of on-campus education, business schools should reconfigure their offerings toward blended and customized programs that leverage the classroom only when necessary," they wrote.
The advice seems especially relevant now. The pandemic has compressed the changes of a decade into a few months. It shattered many of the assumptions we had about the world. Some of the most thoughtful leaders in business and academia are again 'Rethinking the MBA', for the future. At Founding Fuel, we are organising a Masterclass on exactly this subject. The stellar panel includes Prof Srikant Datar of Harvard Business School, Nitin Paranjpe, global COO at Unilever, Pramath Sinha, founder and chairman, Harappa Education and Ajit Rangnekar, former dean of ISB. The session will be moderated by Meeta Sengupta on June 30.
In the run up to the Masterclass, we are bringing together some of the best minds from our Founding Fuel community for a breakout session to discuss and distil the big questions and themes that need to be addressed. The first such breakout session is happening this evening. We will share the video recording of the breakout session shortly afterwards. The poster has more details.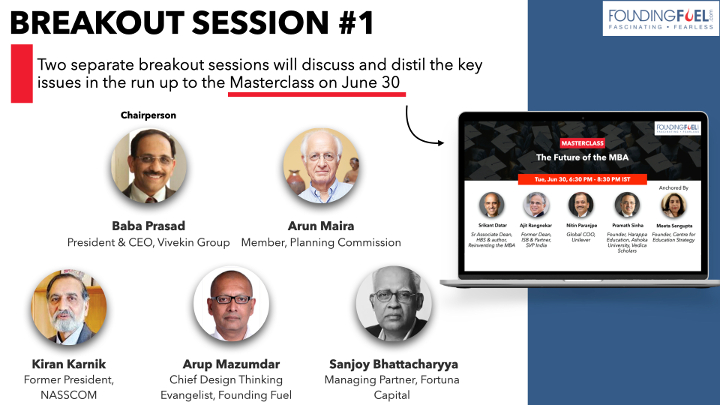 If you want to attend the Masterclass on June 30, register here. It will take less than a minute.
And you can start discussions straight away on our Slack channel. Click here to join.
Wish you a great week ahead.
Be a generalist
Vikram Mansharamani, a lecturer at Harvard and the author of a new book Think For Yourself, argues that in a world that's changing rapidly, it's important to be flexible, agile and willing to use multiple tools. In short, be a generalist. In a recent essay, he reminds us that "Jeff Bezos was not a retail specialist who took on his competitors and won. He was a relative newcomer to retail but was able to adapt rapidly to seize a gigantic opportunity."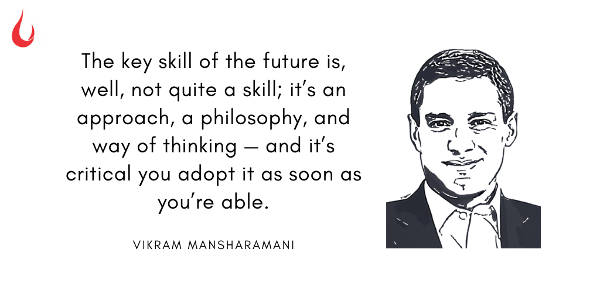 Here are three tips from his essay.
Zoom out and pay more attention to the context in which you're making decisions.
Read the whole paper, not just the section about your industry.
Think about how seemingly unrelated developments may impact each other, by looking for interconnections across industries,
Take a leap with your skills
In an interview with Charles Duhigg, LinkedIn editor Jessi Hempel tells a fascinating story of an actor who found happiness as a software programmer.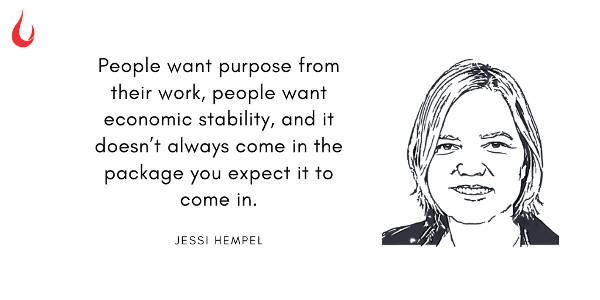 Hempel says: "A guy I know came to New York to be an actor and spent 10 years working very hard at it and had some success. He could pay his bills, mostly, but then he took an inventory of those skills and he realized that creativity—thinking loosely about new ideas—could be applied to software coding. And so he took a boot camp. It was a six-month program. It cost him $10,000. He did not have $10,000. He borrowed it and lived very frugally. Three years later, he is a very successful software programmer. The interesting thing about it is that he finds that he's using the same skills, but the thing that he thought he wanted to do with them didn't bring him the happiness that the thing he's doing with them now does."
At Founding Fuel, we explored a similar theme recently in our new series Personal Journeys with Ashish Vidyarthi. Watch the whole programme.
Be self-aware
On Twitter, we found this interesting twist to the classic cartoon by Tom Gauld: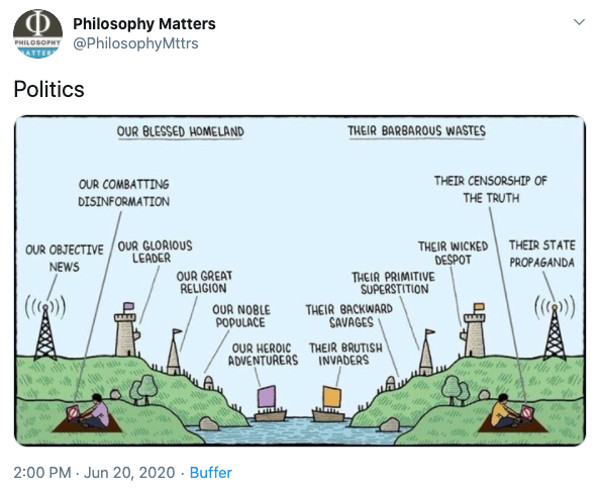 What are the most interesting arguments you have had with those living on the other side of the river? Share your learnings with us via mail. Or share it on our Slack channel. Want to join? Scroll up.
And if you missed previous editions of this newsletter, they're all archived here.
Bookmark Founding Fuel's special section on Thriving in Volatile Times. All our stories on how individuals and businesses are responding to the pandemic until now are posted there.
Warm regards,
Team Founding Fuel