[Image by Pexels from Pixabay]
Good morning,
Last week, Rama Bijapurkar, market strategist and independent board member of several blue-chip companies, alerted us to a fascinating study that explored an important question on startups. What works better for entrepreneurs—intuition and rules of thumb or a rigorous application of scientific method?
To find an answer, researchers led by Arnaldo Camuffo conducted a randomised trial involving 116 early-stage Italian startups. Half of them were encouraged to use the scientific approach, that is, (as HBR explains it), "frame, identify and validate the problem, formulate a hypothesis and test it with data and experiments and establish metrics for determining whether the hypothesis holds up." The other half went by their intuition and heuristics.
When they looked at the results after several months they found that the entrepreneurs who followed the scientific method did better. They got more customers and higher revenues and more importantly, were more willing to pivot or even shut down their business if it didn't work.
As the coronavirus pandemic wreaks havoc on business and economy, hundreds of thousands of jobs are being axed across industries. We need entrepreneurs in ever greater numbers to identify opportunities, build businesses and create jobs. The role of b-schools and MBA education has become ever more important in this context.
It's a theme that we have been discussing over the last few weeks at Founding Fuel. Last evening, we had the first breakout session chaired by Baba Prasad, CEO of Vivekin Group, with a panel including Arun Maira, former member, Planning Commission, Kiran Karnik, former president, Nasscom, Arup Mazumdar, Chief Design Thinking Evangelist at Founding Fuel and Sanjoy Bhattacharyya, Managing Partner at Fortuna Capital.
Later this evening, we will have our second and final breakout session.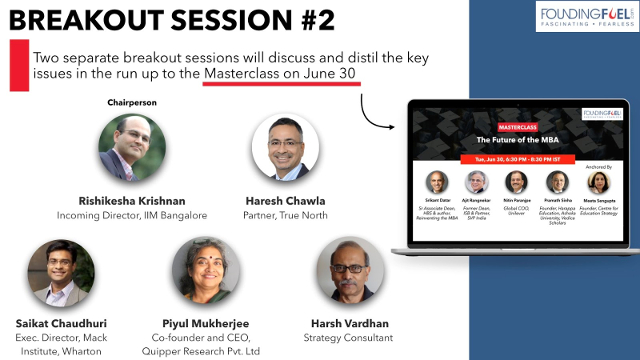 The distilled themes emerging out of these conversations will lead to the Masteclass on The Future of the MBA with Prof Srikant Datar of Harvard Business School, Nitin Paranjpe, global COO at Unilever, Pramath Sinha, founder and chairman, Harappa Education and Ajit Rangnekar, former dean of ISB. The session will be moderated by Meeta Sengupta on June 30.
If you want to attend the Masterclass on June 30, register here. It will take less than a minute.
And you can start discussions straight away on our Slack channel. Click here to join.
Wish you a great day ahead.
Keep your eyes on the mission
Michael D. Smith, the J. Erik Jonsson Professor of Information Technology and Marketing at Carnegie Mellon University and co-author of Streaming, Sharing, Stealing: Big Data and the Future of Entertainment, in an insightful essay in The Atlantic draws parallels between what happened to the entertainment industry in the last couple of decades and what's happening to higher education. He is optimistic.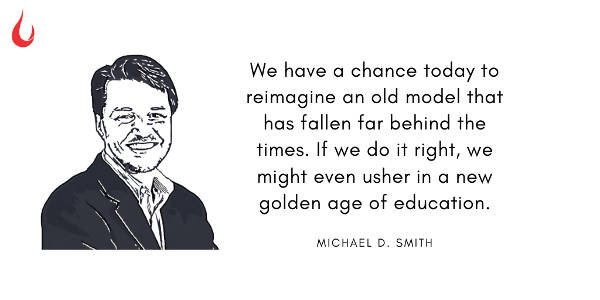 Prof Smith writes: "But remember, just because new technology changed the way entertainment was delivered doesn't mean it impeded the industry's underlying mission. Instead of destroying TV, movies, and books, new technologies have produced an explosion in creative output, delivered through the convenience, personalization, and interactivity of Kindle libraries, Netflix recommendations, and Spotify playlists. Despite—or maybe because of—the digital disruption we've recently lived through, we're now enjoying a golden age of entertainment."
Measure what matters
A story in The New York Times says many companies have seen an increase in productivity, but many are worried about burnout. "Some individuals have had a harder time than others working from home, but many companies say productivity has remained at pre-pandemic levels, or even gone up. Without long commutes, small talk with colleagues and leisurely coffees in the break room, many workers—especially those who don't have to worry about child care—are getting more done."
The story reflects two questions that many have raised in the last couple of months—when all these were rolling out.
Yes, our productivity might have gone up, but where did it come from—remote working tools, or all the investments we made in face-to-face interactions all these years?
Yes, our productivity might have gone up, but are we heading towards a total burnout?
Last month, Satya Nadella expressed it in the form of a powerful question.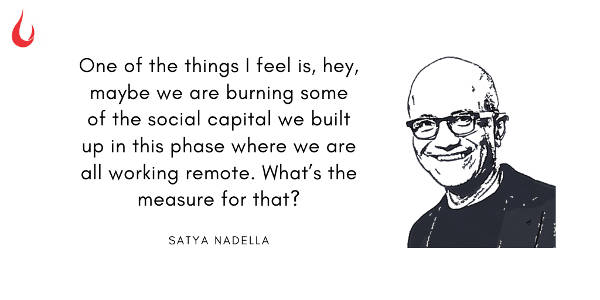 It's hard to measure that. However, as one of the favourite quotes of Nachiket Mor goes: 'It's far better to inaccurately measure something you care about than to accurately measure something that you don't care about."
Plan ahead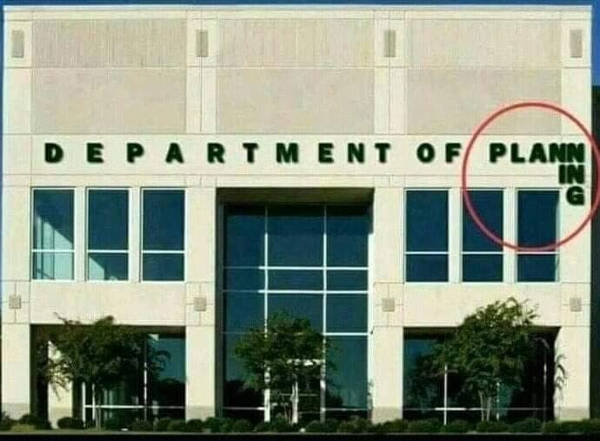 (Via WhatsApp)
What's your favourite Calendar app? Mail it to us. Or share it on Twitter, tagging @foundingf. And head to our Slack channel..
And if you missed previous editions of this newsletter, they're all archived here.
Bookmark Founding Fuel's special section on Thriving in Volatile Times. All our stories on how individuals and businesses are responding to the pandemic until now are posted there.
Warm regards,
Team Founding Fuel