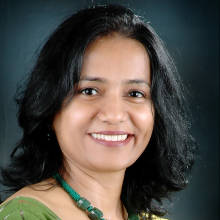 Kalpana Tatavarti, is founder director, Parity Consulting & Training, with over 20 years' experience spanning marketing, sales, leadership development, and diversity and inclusion.
She has partnered with marquee clients across industries to build gender inclusive workplaces in India. As a specialist in women leadership she has trained and coached women executives and leaders across levels on building successful careers. Her work in developing women leaders in organisations is distinguished by its holistic perspective and a keen focus on building enabling ecosystems.
As a boutique firm focused on diversity and inclusion, Parity Consulting is empanelled by the Ministry of Women and Child Development as a service provider for preventing sexual harassment in workplaces. Parity's range of solutions for building inclusive workplaces, that address various dimensions of diversity, have been leveraged by many organisations in India.
A masters in marketing and sales, Kalpana is a certified executive coach, besides being certified in several transformational frameworks and tools.
She serves as an independent director on boards of listed companies. As an angel Investor, she invests in early stage startups selectively. She is also founder of Manasvini, an NGO that provides micro credit to economically disadvantaged women.