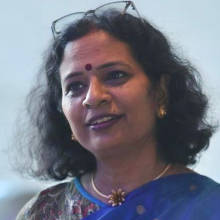 Meenakshi Ramesh is the Executive Director at United Way of Chennai, a not-for-profit and CSR implementation partner for corporates, in the areas of education, livelihoods and environment. She is also co-founder of Citizen Matters, an online magazine and knowledge platform for raising awareness on urban civic issues. She also serves on the board of three other NGOs.
Meenakshi and her husband Ramesh enjoy traveling and meeting social entrepreneurs working for varied causes.
She's an avid quizzer, wannabe musician and linguaphile. She's also the mother of two grown up kids, and finally resigned to being called Aunty!