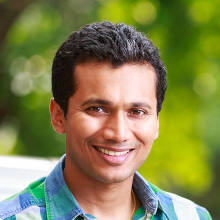 Rohin's degrees were fairly predictable, even stereotypical, for a south Indian working class kid born in the 70's – an undergraduate in engineering followed by a post-graduate in management. Both back to back of course, in keeping with the popular Indian belief of finishing your education in one continuous stretch before starting one's career. Thankfully, his career has been quite the opposite.
Starting in 2001 with a venture-funded IT consulting company with an "e" in its name (unfortunately just as the dotcom boom was starting to crater) he's worked across a diverse set of sectors that's finally culminated in entrepreneurship. These included being a business analyst in an IT services company; a partner in a leading global PR firm; a business journalist with Forbes India; and finally, a bootstrapped, early-stage entrepreneur building a mobile startup in easily the best place to do so in India – Bangalore.
Though serendipitous at first glance, in hindsight he's come to realize there was a pattern to his career: he was unconsciously moving away from large corporations and their structured job roles towards smaller, nimbler and more independent companies and roles. He was progressing through roles with increasingly greater freedom to engage his curiosity, utilize his interests, and validate his ideas. Thus, in many ways entrepreneurship is both the culmination and pinnacle of that journey for him.
He will be writing occasionally for Founding Fuel as an inside chronicler of Indian entrepreneurship who's been on multiple sides of the storytelling process. His stories will lie at the intersection of journalism, entrepreneurship and people.