[Photo courtesy Shivani Kapila, TikTok star, Surat]
What does TikTok reveal about millennials and consumer behaviour? How can marketers leverage it? This is the third story in a four-part series—a collaboration with Quipper Research, led by its co-founder and CEO Piyul Mukherjee.
In an otherwise conservative milieu, there is a childlike innocence in the ways that the emerging young TikTok users have embraced and adapted themselves to the new app on the block. It is all very in-your-face and, well, loopy.
A legion of star influencers are gaining massive traction in minimum time.
The phenomenon reflects a changing India, in response to technology. Yet, to me, the TikTok phenomenon is not about technology. It is about our response to what is now available to us, at this moment in time. It is about the inventiveness of the users, who craft it to reflect their own self-identity and worldview. That does not necessarily shift or change at the same lightning speed as technology.
To make sense of the uncertainties and disruptions around us, we must try and understand the underlying human attitudes and behaviour. How does the individual construct and integrate his or her inner world within the reality of breakneck speed? What is Gen Z and the millennials doing with the tech now available at their fingertips, and in what ways is it shaping them? Closer home, what does TikTok represent in a country of 1.3 billion people, where nearly 20% have already embraced the new app within the space of a few months?
Here are a few patterns we have found. But first, watch our multimedia story linked below that takes you inside the world of TikTok superstars.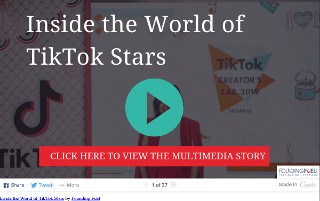 [By Anmol Shrivastava, with inputs from the Quipper team. Video interviews were shot by Sujal Jain. Click on the image above to view the multimedia story—on your laptop, keep clicking to go through each slide and view the entire presentation. On a smartphone, you can expand it and view it in landscape mode; and you can swipe to view the slides.]
1. Social skills are now practised watching others on the app
For young Indians, few interpersonal interactions are taking place in their in real lives. Social engagement and experiences are one step removed from actual face-to-face interactions. An entire generation has come of age spending hours watching the smartphone screen.
Yet, as human beings, everyone is able to experience a range of emotions—confusion, anger, disgust, joy, satisfaction, fear. But these are now experienced vicariously. TikTok videos provide an avenue for anonymous intimacy, with a very wide range of emotions. Each video allows us to respond with the vestiges of one of the emotions, in split seconds.
This is the virtual reality of millions of TikTok users, who lead atomic lives, yet watch videos that provide the space for experiencing social skills.
Cheating girl-friends, how to 'propose', relationship goals, what to do if there is an argument, emotions of being hurt, misunderstood—every such 15-second video is hugely popular. The videos are often enacted by a group of youngsters, incidentally each a TikTok star in their own right.
In this schema, videos enacting charity and charitable acts of kindness, and taking care of the older generation are hugely popular. They reflect the underlying sense that the creators are comfortable being who they are.
2. Modernity is in the clothes, dil hai Hindustani
Multiple views hold in parallel. The mores of contemporary India are about change—Modernity is defined in the clothes, but the ethos does not reach deep value systems. And this is not seen as a contradiction.
The videos are ultimately about ingrained habits and dispositions.
Shivani Kapila, a Tik Tok star, exemplifies this. She is married and lives in Surat. She wears shorts and recently went to London to watch the World Cup finals. She makes videos on travel, women empowerment, charity and fitness.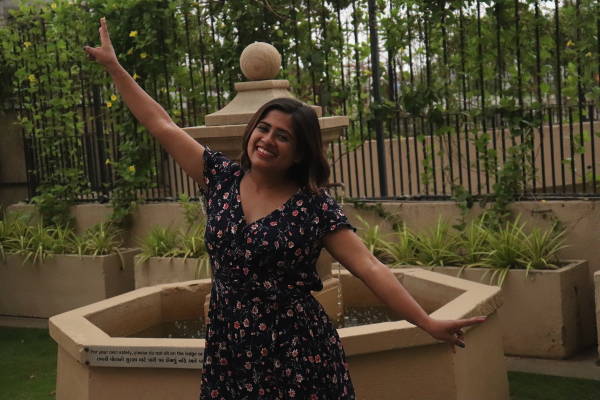 [Photo courtesy Shivani Kapila]
"My in-laws are very supportive. I feel blessed to have married into such a family. My mom-in-law acts in my videos too. I bounce off my creative ideas at my husband, wherein he does contribute creatively." - Shivani Kapila, TikTok star, Surat
3. Keep it simple, stupid
In the enacted illusion of the everyday world, there is no space for complicated and convoluted realities. Stories that can be looped into 15 seconds work best when they are tailored around simple binaries. Good son – bad son; right response – wrong response; husband vs. boyfriend and so on.
This is not about easy content creation—that TikTok does allow for. It is the worldview of a generation impatient with nuanced stories that are seen as rather complicated. Anything too profound is found pedantic (and will not garner likes).
And no one is bothered by it.
The social construction of reality is both simple, and simplistic. Emotions are never complex. TikTok is the platform where the social structure continues to be reproduced. Family is important and part of your primary support group. Individualism is to be frowned upon.
Three hit TikTok videos illustrate this well:
Akshay Partha, the young TikTok star from Chennai, won over more than 200,000 likes by making a 15-second video with his grandmother on the popular song Kolaveri Di. Young people pour out their approval of this relationship, as seen in the thousands of comments to the video.
Or check out Chumki Saha's TikTok video. Where a plastic glass is half filled with water. The word 'boyfriend' is written on the upper half, and 'husband' on the lower half. When a lit match touches the top of the glass, 'boyfriend' withers away, and 'husband' remains. This very profound prognosis (!) has 500,000 likes. In the message, Social hegemony is reiterated—of privileging marriage over any other heterosexual relationship.
Watch Awez Darbar in the TikTok video on 'Maa maa hoti hai' (six million likes). Kakar has analysed Indian men as personifying two opposing wishes, a powerful push for independence, and an equally strong pull towards surrender to the maternal!
What needs to be remembered is that the base emotions are not phoney. It is important to be earnest.
4. Local communities are powerful
There is comfort in the known. It could be using the local language, such as Gujarati or Telugu. Or the local town, where the instantaneous fame that TikTok stars have achieved, has a value. The currency is in being recognised.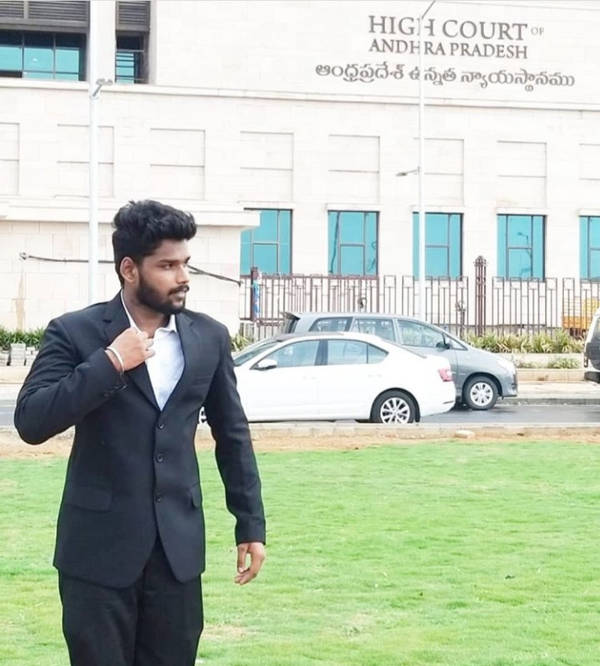 [Photo from Instagram]
"The day after I uploaded the video with my grandmother that now has over ten million likes, I went to the mall. Someone came up to me and asked to take a selfie with me. I was shocked." - Akshay Partha, TikTok star, Chennai.
Each individual is shaped by the collective reality of the local group culture. What is expressed in the videos are not divorced from their ingrained dispositions.
India is a collective culture. Having those around you know brings out a sense of comfort, allowing you to flaunt the bolder side of your personality. In one TikTok video, a girl appears to be dancing with abandon in a Mumbai local train. Fact is, behind the camera, she has her friends who offer her the comfort and security.
Dear car owners - Now we are providing live dancing in local trains.

Try local trains for a change, might save your 10k. ???????? pic.twitter.com/CfzTAiabg3

— BANDRA INFO (@bandrainfo) July 23, 2019
A big trend is the coming together of local influencers at TikTok creator parties, who then go on to form co-dependent groups, helping each other out, creating content together, and building their own private bubble as they take over public spaces where TikTok videos are then shot with complete abandon.
In this camaraderie, these tribes are continuously experimenting. Tips are shared with one another ("morning light is the best", "to make the films, TikTok just added a three second lag to aid the start of the video").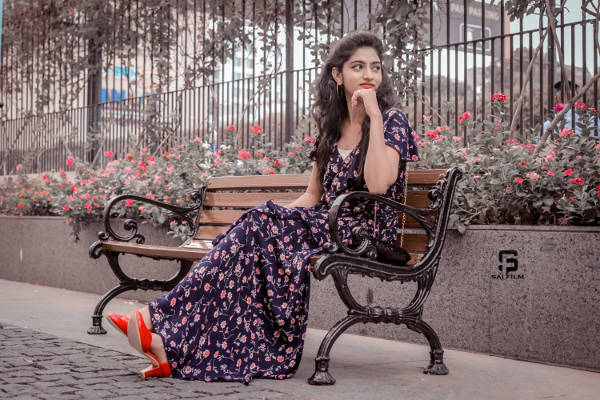 [Photo courtesy Nilam Rajendrasinh Jetavat]
"Shivani [TikTok star] asked me to upload a video. I did with her support and it was my dream to touch 10K likes. I uploaded the video as I was walking down a flight of stairs. By the time I reached the bottom, my video had already crossed 10K likes." Nilam Rajendrasinh Jetavat, TikTok star, Surat.
These are the dream clusters that marketers are gradually learning to reach out to, to reach a targeted segment within a town or a linguistic group.
Saw three guys and a girl fighting at Lodi just now. Things got heated and one of the guys pushed her and she tried to hit him back. I was just about to go check on her and make sure she isn't hurt when I saw the camera.

They are recording a fucking TikTok video! ????????‍??

— Karnika (@KarnikaKohli) July 22, 2019
5. Validation by peers—and family—is important
One of the most damaging effects of significant unemployment alongside the inability to get into higher education in a chosen field, is the negative impact on individual wellbeing.
TikTok has provided an avenue for expression cutting across income classes. In the exuberance of the 15 seconds, the real world of "un-success", of failures and frustrations fades to the background.
As the videos gain likes, so does self-esteem and self-confidence. The ultimate validation is when parents grudgingly begin to respect the next-gen.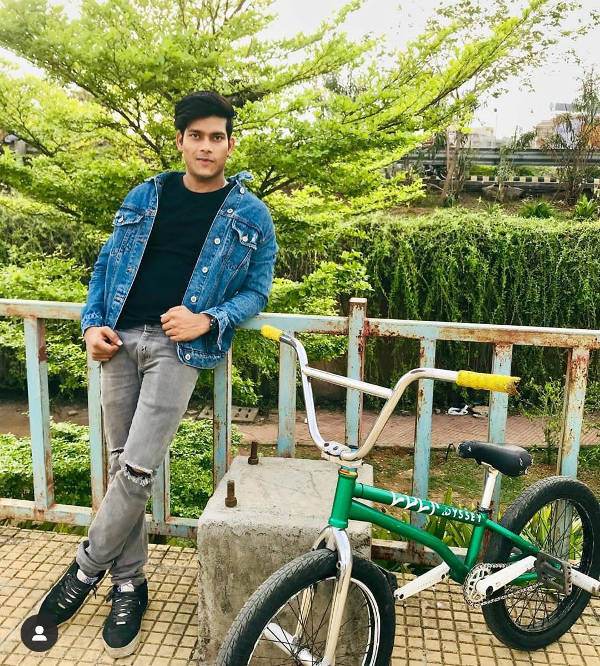 [Photo from Instagram]
"My parents were absolutely against me spending time creating TikTok videos. However, one thing leads to another, I got noticed and collaborated on a TVC [TV commercial] for Metro Tyres. Once my parents watched that ad, they've never stopped me." - Irfan, BMX rider, TikTok star, Mumbai.
There is the added fulfilment of working hard, planning for hours, and overcoming challenges—something that society had not given an opportunity to do.
6. There's a new TikTok ecosystem, inhabited by tribes of influencers, where imitation is the ultimate form of flattery
As a medium of expression, TikTok has turned the basics of the content game on its head. With the 'challenge' format taking on a life of its own, the circularity of content has mushroomed here with endless videos depicting re-jigs of the same theme or song.
But that is hardly the point—delight is literally built on such endless 'innovation' around the same theme.
While the conventional demands around the labour of creation are thus brought down drastically, it offers endless potential for personal signatures to be created, and a whole new way of looking at 'small screen stardom'.
So, what does this mean for brands?
How are brands using TIkTok to their advantage. And how should they look at it for the future?
TikTok started monetising in November 2018 after the India ban was lifted. The online shopping site 'Voonik' was the first to advertise on TikTok.
TikTok has become a place for marketers and advertisers to build awareness and reach for their brands without overspending their media budget.
One of the TikTok stars we spoke to, Irfan, told us that he gets up to Rs 25,000 for a brand promotion. Which would mean, in one month, if he does two promotions, he earns Rs 50,000. That's a lot of money for a young man who had no earnings earlier. His father, a fruit seller, is now a satisfied parent. His son has redeemed himself.
Now imagine we are selling a local brand of ice cream at Nashik and neighbouring Yeola in Maharashtra. Instead of needing large budgets and spending on outdoor and online advertising, where we cannot measure actual reach, we could locate a few local TikTok stars. By paying a mere Rs 5,000 each, we have the potential to go locally viral.
Brands are using this to their advantage. Huawei launched Honor 10 with a 22-day #1MillionAudition campaign in India. Leading video influencers participated in the Honor #1MillionAudition that saw over 73,000 users' participation, and 40,000 user-generated short videos.
The National Skill Development Corporation reached out to youth on TikTok to promote skill development on the occasion of World Youth Skills Day 2019. The campaign is trending on TikTok with the hashtag #Skills4All. The campaign garnered over 3.5 million views on day one.
Earlier in May, Pepsi launched a challenge titled 'Har Ghoont Mein Swag' (Swag in every sip), where they asked users to post videos of themselves performing hook steps on TikTok. The #SwagStepChallenge has so far generated 4 billion views, according to Business Standard. This makes the campaign the most successful one so far on TikTok.
TikTok announced the India edition of its global in-app travel campaign, #TikTokTravel. The local in-app campaign #YehMeraIndia showcases India as a key global travel destination by inviting TikTok users to share their travel moments with the world. As part of the campaign, Kerala Tourism (@KeralaTourism) launched their official account on TikTok.
Lay's, the potato chip brand from PepsiCo India, has introduced a unique '#Wavez4India' challenge on TikTok in the run-up to the ICC World Cup.
TikTok #DanceKaJungistan challenge invites fans to replicate the unique hook-steps choreographed by the coaches of the four zonal teams on the show on Zee TV. In its first two hours of announcement, the dance challenge was viewed by over 25 million users across the globe and a week down, it has crossed a staggering 2 billion views. It continues to receive entries from various age groups as the challenge has gone viral on the TikTok app.
While at one end there are challenges and brand promotions, there are also movie promotions. There's one of Hrithik Roshan doing promotions for the film Super 30 with TikTok star Radhika Bangia who has 3.5 million followers. And there is Badshah doing promotions for his new single, with TikTok stars and via the RadioCity TikTok account.
The future for marketers and advertisers on TikTok is promising, with the consolidated and targeted fan base it offers, unlike other social media which seem too large and unwieldy to be able to segment accurately. Besides, the targeted focus on branded content makes it super sticky for marketers, especially the hordes of choreographies based on trending songs. All this makes it a goldmine for promotions, without distraction.
(With inputs from Ipsita Bandyopadhyay, Anviti Mohan, Nishita Thaker and Ateesh Rao, of Quipper Research Private Limited)
Also in this series
Is it a passing fad? Is it here to stay? A multimedia story by Anmol Shrivastava on what's driving the phenomenon
A Facebook Live conversation with Piyul Mukherjee from Quipper Research; Damodar Mall from Reliance Retail; and Ashwin Suresh from Pocket Aces
Business As Usual marketers are blissfully insulated from what's happening on TikTok, an app that has at least 200 million of their own core customers hooked, says Piyul Mukherjee