[Mark Read, Chief Executive Officer, WPP]
The news: On October 17, 2023, WPP announced the merger of Wunderman Thompson and VMLY&R, two of the most awarded creative agencies. The combined entity will be known as VML and will be the industry's largest creative company. Wunderman Thompson itself was the product of a merger between the world's oldest agency, J Walter Thompson, and a relative newbie, a digital network, Wunderman, in November 2018 — you can read Founding Fuel's analysis of that merger for a background.
The Latin expression simply means Thompson (the ad agency) is dead. WPP the owner will argue that the company is not. Certainly the name and what it stood for is dead. Mark Read, CEO of WPP, doesn't care. Looking at the carefully crafted press release and statements from WPP, one can sense the smugness in his statement. They are proud to have killed "old" names and have gone with the name of VML for the merged entity billed as "the largest creative company in the world". The leadership of WPP is likely congratulating themselves for their bold move that they consider disruptive and oh-so-clever. They are sending a signal to the markets, you see.
The collective gasp in social media was a loud statement of absolute dismay. Who cares? That noise is from a bunch of people who are not moving with the times, is the thinking of the WPP management.
I cannot but agree that this move will be disruptive. Primarily for the people of the Thompson, sorry Wunderman Thompson, organisation. By extension, because that is the nature of this business, there will be disruption for the clients too.
A bit of history
The name J Walter Thompson came on the door of an advertising agency in 1896. It is noted as among the first global networks. In India, it would have completed a century next year. The agency Young & Rubicam was founded in 1923, exactly a century ago. Both JWT and Y&R were storied agencies. They thrived for long because of their professional excellence, adaptability and client orientation. Their relationships ran for decades around the world. One cannot create such institutions in any lifetime. These and a few other names came to be known as "Madison Avenue". Lester Wunderman, the pioneer of direct marketing, started his agency in the late '50s. The agency came into the WPP fold when it acquired Y&R (Wunderman was part of Y&R then).
VML was founded in 1992 in Kansas City, Missouri. It is an acronym of the three founders — John Valentine, Scott McCormick and Craig Liebel. (As an aside, I recently interviewed a middle level executive from the VMLY&R agency. I asked him what the initials stood for. He had no clue. He simply said it is a WPP company.) VML did well from its Midwest roots. It took to developing some technology applications and software development early. That was the '90s when tech was raising its head. The company was acquired by WPP in 2001, and merged with Y&R in 2018.
After this spate of mergers, who was in the driving seat? Read, with a strong background in Wunderman, Jon Cook who has been with VML from 1996, and Mel Edwards also from Wunderman. None of them are from the classic branding or creative communications side. The people of J Walter Thompson or Y&R did not, and do not, have a seat at the table.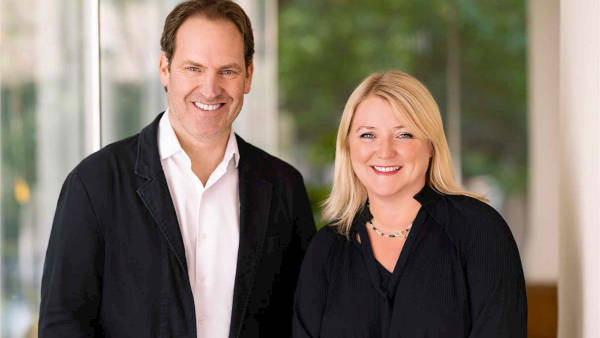 [Jon Cook, VML Global CEO and Mel Edwards, VML Global President]
The current pressures
WPP is an aggregator of companies. It has one master, the stock market. The CEO of WPP gets to keep his job as long as he delivers value to investors, mostly institutions. This applies to other holding companies as well.
The developments on the tech front with dominating platforms, the intersection of marketing and technology, and the incursion of consulting companies into advertising/marketing services have forced the agency holding companies to respond to this new ecosystem. The stock markets have been merciless in their assessment of the four major holding companies — WPP, Omnicom, Publicis and Interpublic (IPG). The combined market cap of the four companies today is between $55 billion to $60 billion, a far cry from their pre-Covid peak. A famous valuation guru recently called them zombie companies, as far as the stock price was concerned. (Note: The fifth major company Dentsu, because of its sheer dominance in Japan, is considered an outlier and not included here.)
WPP was once the most valued company of this pack. It has since lost that position. See table:
Stock price and market capitalisation of four holding companies

WPP (GBP)

Publicis (Euro)

Omnicom ($)

Interpublic ($)

On Jan 3 2023

834.60

60.42

82.53

33.79

High for the year

1051.5 (on Feb 23, 2023)

(Feb 23, 2023)

77.58 (on Mar 3, 2023)

98.23 (on July 17, 2023)

40.29 (on July 17, 2023)

On Oct 18 2023

706.60

74.58

75.33

29.03

Current (Oct 19, 2023) market cap (all in USD)

$9.13 bn

$19.35 bn

$14.69 bn

$10.98 bn
Source: Compiled from company stock price information, and https://companiesmarketcap.com
Read became CEO of WPP in 2018. The market cap of the company was $13.5 billion. It rose to $17.6 billion by the end of 2019. Since then it has declined 52% to the current level of $9.1 billion.
In the meanwhile, French rival Publicis has emerged as the company with the highest market cap of $19.35 billion in the sector. Publicis has managed this with their acquisition of Sapient and Epsilon, both tech and data companies. American rival Interpublic, which was historically way behind, has moved ahead of WPP, on the back of its acquisition of Acxiom, a data company.
Read is in serious danger of losing his job at WPP.
Needed: A Big Play
It is common wisdom that when personal threats loom, people react urgently. CEOs are noted to do this. Read has to communicate to the markets that he is acting swiftly to correct the situation. He has come up with his answer to mix WPP's Creative agencies with what they are calling Commerce and Customer Experience disciplines. In this scenario, where is the room for sentiment and maintaining the old names of Thompson, Wunderman or Young & Rubicam? There is no one to argue that case even. WPP management has repackaged the offering under the moniker of VML. They believe this shows confidence on their part. Markets are supposed to like bold management moves. The other side of boldness is stupidity. What is it in this case? Time will tell. The trouble with the move is that VML is simply not known outside its US market, and does not have the aura or radiance. Even in the US, the other names that have been discarded are much stronger. But VML is the new kid, they will argue, and has no baggage.
What will follow are the statements of the expected extraction of efficiencies from the big merger. Excel sheets will be worked and reworked. Predictions will be made that tens of millions of dollars in savings will be mined. This will be directed at the analysts in the hope that the stock will get re-rated. I estimate that at least 10% of employees — around 3,000 people — will lose their jobs in the process. As roles get shuffled and names get forced on to new organisation charts, many good professionals who have contributed diligently will get evicted or will evict themselves.
Will the merger work? I don't think so. Instead of continuing to build the data and tech needs of the two entities Wunderman Thompson and VMLY&R, the energy will be redirected towards bringing two diverse organisations together under a relatively unknown name. Clients are not asking for larger and larger organisations. They are seeking solutions to marketing issues grappling with a highly fragmented audience. The merger does nothing to address this. The WPP management should have cared more before discarding famous names that became famous for good reasons.