[Image by Gerd Altmann from Pixabay]
Good morning,
In The Start-Up of You: Adapt to the Future, Invest in Yourself, and Transform Your Career, Reid Hoffman offers an interesting perspective on relationships. He writes:
"People change. You change. Some relationships just aren't meant to last beyond a certain point. It's okay to simply let those friendships fade. This is a natural evolution of some relationships. Unlike romantic relationships, with friendships there's rarely a reason to have a full-on breakup. Even if people go in different directions and the friendship slowly peters out, trust can endure. And unlike most exes, it is possible to rekindle/reactivate friendships later on when your lives are more aligned."
For many, the pandemic gave an opportunity to rekindle and reactivate old friendships—going back to school and college—through Zoom calls. What has been your experience?
This evening, Charles Assisi will be in conversation with Ashish Vidyarthi for our very first edition of Personal Journeys. If you are interested, just reply to this email.
Have a great week ahead!
Balance analytical and emotional intelligence
Using the advances in functional magnetic resonance imagers (fMRI), Anthony Jack, a professor at Case Western Reserve University (CWRU), has studied people's brains as they solved tough moral dilemmas. He says there are two major neural networks functioning in our brains—analytic and empathetic networks. Jack's key insight is that these two networks suppress each other. When you activate one, the other is deactivated.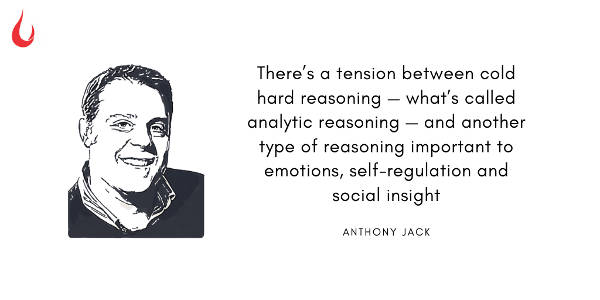 In a recent essay in Harvard Business Review, professors Melvin Smith, Ellen Van Oosten and Richard E. Boyatzis explain how the best managers balance the two. They offer three steps to achieve a balance.
Be aware of your own predilection. What is your "go-to" neural network? Being aware of your dominant neural network, or the one that is most likely to get activated for you across a variety of situations, requires the practice of mindfulness.
Exercise the neural network that isn't your go-to. There are a variety of ways to exercise your empathic and analytic neural network "muscles." A useful approach is to spend more time exercising the network that you are less likely to use.
Practice balancing both. Once you have mastered the ability to be more aware of when you are either operating in the analytic or empathic network at any given time, and you have developed the capacity to activate either network upon demand, you are then ready to practice effectively balancing the two networks.
The essay has useful exercises on how you can go about doing these.
Interestingly, Anthony Jack is a professor at the Philosophy department in CWRU. Some of the most useful ideas in management are, in fact, coming from the intersection of different fields. How exactly is management education keeping pace? What indeed is the future of the MBA, especially in a Covid world? To explore this topic, Founding Fuel is putting together a stellar panel including Prof Srikant Datar of Harvard Business School, Nitin Paranjpe, COO at Unilever, Pramath Sinha, founder and chairman, Harappa Education and Ajit Rangnekar, former dean of ISB. The session will be moderated by Meeta Sengupta on June 30. We will share more details with you in the coming days.
Play to your strengths
In an essay, Nachiket Mor makes a case for low and middle-income countries, with inadequate hospital infrastructure, to focus on community-based organisations and primary care providers to respond to the pandemic, and in the process strengthen the overall healthcare capacity.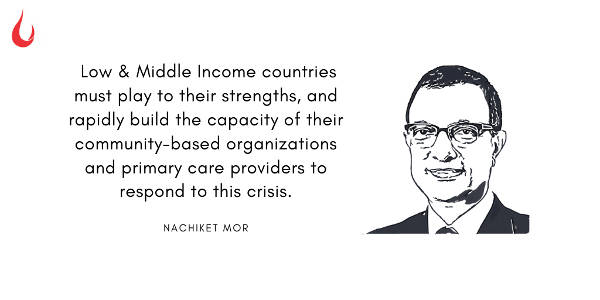 Many low- and middle-income countries (LMICs) lack adequate hospital and emergency transportation infrastructure, but most have strong community-based structures, such as community-based organizations and local nonprofits. LMICs could benefit from the near ubiquitous presence of these nonprofit organizations if their governments empower them to, among other things:
Identify the most vulnerable, such as individuals over the age of 60, and guide their families on how to protect them over the next several years until a good adult vaccine is developed;
Communicate home care and isolation guidelines even for the very sick, including the development of collaborative arrangements between families where space within a single home is limited;
Map the local primary care provider (PCP) network, including private and the nonprofit providers and, wherever possible, assign households to specific PCPs so that when the numbers start to rise, there is no confusion as to who is responsible for taking care of particular families;
Ensure that these PCPs are well prepared to manage all but the sickest of the cases; and
Provide essential support to those families that are in the greatest economic need.
Smile
Even when you are behind a mask. Doctors in Arunachal Pradesh do it by pinning their photos on their PPEs.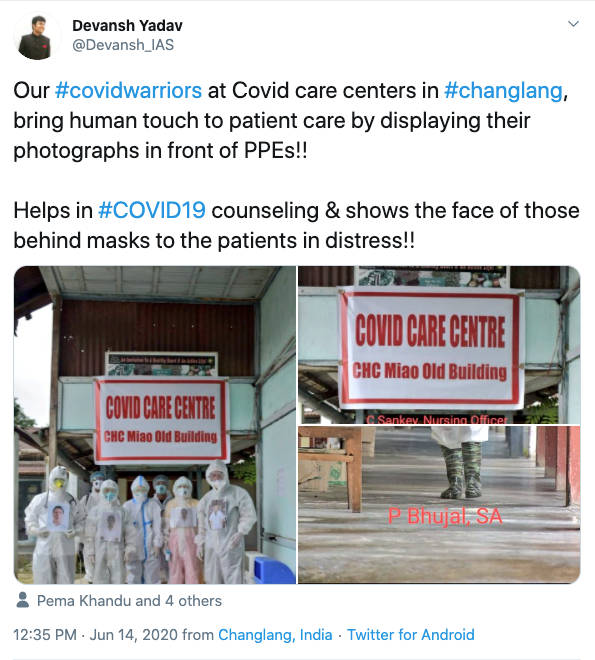 (Via Twitter)
Have you come across innovations with empathy? Share them with us. Or post on Twitter, and tag us @foundingf. Or join our Slack channel and post it there. If you aren't there already, here is the invite code.
And if you missed previous editions of this newsletter, they're all archived here.
Bookmark Founding Fuel's special section on Thriving in Volatile Times. All our stories on how individuals and businesses are responding to the pandemic until now are posted there.
Warm regards,
Team Founding Fuel