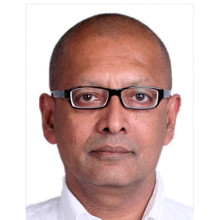 Arup Mazumdar
Design Thinking evangelist, Researcher, Clinical Business School Faculty
I am an outlier who believes in serendipity and describes himself as a Design Thinking evangelist.
I hold a PGDM from IIM Bangalore, and I've had 34 years of corporate experience with HSBC and TATA in India and abroad, where I was CEO of various associate companies and subsidiaries.
My PhD dissertation with the University of South Australia, Adelaide was on the sociological constructs that make business relationships work. I earned a graduate degree in Business Research from the same college and that became the theme for a new course that I incubated as an Adjunct faculty at SP Jain Institute of Management and Research (SPJIMR), under the mentorship of the then Dean Dr Maneesh Srikant.I also designed a course on 'Business Relationship as a Competitive Advantage', which focused on the sociological underpinnings that help create strategic differentiation.
My big breakthrough was to design a practice-led course Application of Design Thinking in Problem Framing, or BCP (Business Consulting Project) as it was called, which won a Gold at the annual Indian Management Conclave (IMC) awards in 2014.
I was mentored by Prof Srikant Datar, Arthur Lowes Dickinson Professor of Business Administration at the Harvard Business School to deliver his signature course in Design Thinking and Innovation at SPJIMR in February 2015. I was called upon to facilitate his workshop on 'Management Education: Responding to a Changing World' based on the application of Design Thinking, in Delhi in May 2015.
Research is my biggest hobby. I have written several papers and published a few on topics like 'Human Side of Services', 'Business Relationships', 'Leadership in Emerging Countries', and 'Design Thinking Application to Industry'. I am also in the process of writing two books on 'Business Relationships' and 'Problem Framing Application to Industry', both of which are supported by Sage Publications.
In 2012, I was handpicked for the faculty training program under Professor Michael Porter at the Harvard Business School campus in Boston for his signature course 'Microeconomics of Competitiveness'. I am a Chartered Associate of the Institute of Bankers and an Associate of the Indian Insurance Institute.
I enjoy reading, practise tai chi, play an occasional game of badminton and tennis and write poetry. I am married to a leading artist and our daughter, who is now married, works as a serious games designer at one of the country's leading interactive learning companies.