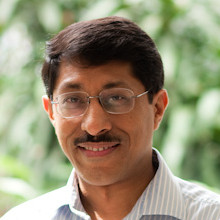 Devangshu Dutta is chief executive of Third Eyesight, a specialist management consulting firm, and managing partner of PVC Partners, an early stage investment & advisory firm. In his two-and-a-half decade long career, he has consistently worked at ahead-of-the-curve businesses. In his previous assignments, he held senior and top management positions in marketing, retail and management consulting organisations, and also co-founded a sourcing solutions business built around web-enabled supply chain management.
Devangshu feels that there is an urgent need to "raise the floor" in terms of dignity-of-life in countries such as India, and entrepreneurship is the vehicle to provide growth that is not dependent on economic well-being trickling down from the government or from large corporations.
Devangshu regularly speaks at premier industry events internationally and writes frequently for print and electronic media. He also serves on Advisory Boards of companies as well as prominent academic institutions in the USA and in India.