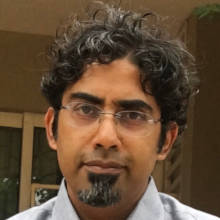 M. Rajshekhar started his career as a business reporter in 1997. He began reporting on environmental issues as a freelance journalist in 2005. After a brief stint with the World Bank, an MA at the University of Sussex, and two years of independent research—spent studying the village-level impact of an agribusiness model in central India and the drafting process which produced India's Forest Rights Act—he joined the Economic Times to report on rural India and environment in 2010. During this period, he won two Shriram Awards for Excellence in Financial Journalism (2013 and 2014).
He joined Scroll.in in 2015 to do a thirty-three-month-long reporting project, Ear to the Ground, which became the substrate for his recently launched book, Despite the State. This series won the Ramnath Goenka Excellence in Journalism Award (2015), the Bala Kailasam Memorial Award (2016), and two more Shriram Awards for Excellence in Financial Journalism (2015 and 2016).
He now writes on energy, environment, climate change, political corruption and oligarchy. His reportage can be found at www.mrajshekhar.in.