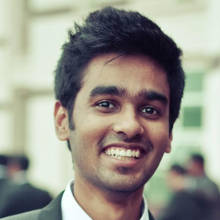 A strong desire to shape and further build the entrepreneurial community drew Anmol (Twitter: @MoleShrivastava) towards Founding Fuel, where he prides himself on being the only millennial in the current core team. Recently, his story on 'The Satara' uprising was shortlisted as the best story of the year in the Business and Economy category at the prestigious Red Ink Awards 2021 by the Mumbai Press Club.

At Founding Fuel, his role involves supporting diverse strategic planks of the organisation including partnerships, business development, content, storytelling, community engagement and most importantly supporting the growth of Founding Fuel's digital transformation practice.
Prior to joining Founding Fuel, Anmol was a part of Samhita Social Ventures, one of India's leading social impact consulting firms. At Samhita, Anmol led the CEO's office where his role involved working with the senior leadership to shape the firm's organisational strategy and internal culture, while supporting business development and execution of strategic projects.
During his stint Anmol consulted several marquee corporates on how they can maximise shared value through their social impact initiatives. He led the inception of Samhita's WASH (water, sanitation and hygiene) platform and was able to build founding partnerships with marquee entities such as the Government of Maharashtra, Bill and Melinda Gates Foundation, UNICEF and India Sanitation Coalition. He was also responsible for setting up the flagship project of the platform 'Swachh Maharashtra Grand Challenge', which is an open innovation platform to identify, implement, nurture and replicate innovations across the sanitation value chain. Collectively the two properties channelise several million dollars of funding into India's sanitation sector and have been lauded by chief minister Devendra Fadnavis as first-of-their-kind initiatives.
Anmol was additionally recognised as Top 1000 global SDG talents in 2018 by UNLEASH. He has also been a part of other influential communities including the World Business Dialogue (2016), South American Business Forum (2014) and Harvard Project for Asia and International Relations (2014).
Anmol graduated first class from BITS Pilani K.K. Birla Goa Campus in 2016 with majors in B.E (Hons) in Mechanical Engineering and a minor in Politics, Economics and Philosophy. He is the only student in the history of his university to have been elected by students as the president and general secretary and also be nominated by the chancellor KM Birla to represent his campus at the BITS University Senate. Through these roles, he undertook several key initiatives. One that's closest to his heart includes registering over 600 citizens in the Indian National Voter List for the 2014 general elections.
Anmol additionally has a thesis from Indian Institute of Technology, Bombay in the domain of renewable energy. He is also a participant in the prized Indian National Mathematics Olympiad.
As a technology, mathematics, entrepreneurship and sports enthusiast, Anmol admires leaders such as Steve Jobs, MS Dhoni, Viswanathan Anand, Albert Einstein, Elon Musk, Barack Obama and Amar Bose. He loves to travel, explore places and meet new people. His other hobbies include playing chess, following his favourite football club Manchester United and devouring stories on business, politics, entrepreneurship, design and behavioural sciences.