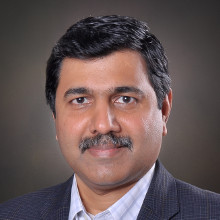 C S Swaminathan (Swami) is co-founder and director at Founding Fuel. In addition to contributing to the overall direction, Swami will focus on customer engagement, marketing, technology and analytics. In the past he has put in stints as management consultant at PricewaterhouseCoopers, a global technology practice leader with Wipro Technologies and a business leader of online learning company - Pearson Education.
In his consulting and technology practice roles, he has advised many companies on strategic business imperatives, marketing and customer management programs, and helped deploy enterprise wide technology solutions in the areas like supply chain management and customer management. At Tutorvista ( which was acquired by Pearson), he managed the online learning business serving students in the US and India.
Swami is very interested in issues related to the environment, sustainability and learning. He reads extensively in the areas of business, management and technology and has been a speaker on these topics at events in India and USA.