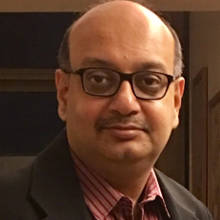 Indrajit Gupta is a business journalist and editor with over two decades of experience. He was the Founding Editor of the Indian edition of Forbes magazine. Within four years of its launch, Forbes India became the most influential magazine in its space.
He is the co-founder and director at Founding Fuel.
He has served in leadership positions at many of the leading media brands in the country. Before taking up the assignment to start up the India edition of Forbes magazine, Gupta was the Resident Editor of The Economic Times in Mumbai and before that, the National Business Editor of The Times of India.
Over the years, Gupta has built a reputation for grooming talent and creating highly energised and purposeful newsrooms. He has interviewed several leading global thought-leaders and business leaders including CK Prahalad, Ram Charan, Wayne Brockbank, Sumantra Ghoshal, Carlos Ghosn and Nitin Nohria, and also led cutting-edge joint research-based projects with McKinsey & Co, The Great Place to Work Institute, Boston Consulting Group, KMPG and Coopers & Lybrand.
He won the Polestar journalism award in 2010 and was awarded the Chevening fellowship by the British Foreign office in 1999. Gupta is an alumnus of the SP Jain Institute of Management and Research, Mumbai and a B.Com (Hons) graduate from St Xavier's College, Calcutta.
Gupta teaches a course on Business Problem Solving at his alma mater. He writes a column named Strategic Intent in Business Standard's edit page. He lives in Mumbai with his wife and two young daughters.