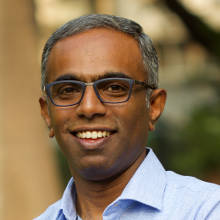 Kavi Arasu
Leadership and Talent Development Professional
Kavi is a talent and organisational change specialist who loves to play at the intersection of people, technology and organisational change.
He has two decades of corporate experience in multi-cultural environments, both in MNCs and Indian organisations. He began his career in sales and marketing before choosing to specialise in leadership, talent, organisation development and change.
In his last assignment at Asian Paints, a $2 billion coatings multinational based out of India, Kavi was the group head for talent management, learning, leadership & organisational development, and diversity & inclusion. In this role, Kavi led a team that implemented technology tools for learning, performance and culture augmentation, while ensuring that the change process was anchored in real, meaningful conversations, a strong human connect and on-the-ground work.
Kavi has particularly enjoyed working in the areas of leadership transitions and development, M&A integration, cultural assimilation, succession pipeline building and strengthening the pillars of culture. He has an abiding interest in the power of storytelling and the Future of Work.
As an executive coach, Kavi works with several senior leaders across the industry, helping them to take charge of the future and deal with their current challenges. He is a Professional Certified Coach (PCC) with the International Coaching Federation. He began working as an executive coach in 2007 and has worked on embedding coaching as a culture in large organisations.
Kavi provides thought leadership to Founding Fuel's learning business. He is closely involved in building a practice that helps clients achieve business results that they seek through uniquely crafted and impactful programmes. Inside Founding Fuel, he acts as a coach to the founding team to help them become better leaders, reach their full potential and to question status quo.
In addition to his role at Founding Fuel, he runs an independent executive development portfolio for senior leaders and select organisations. His areas of work range from executive coaching, strategic consulting and change for digital/tech projects, process facilitation, design thinking and the like. He strives to keep his work simple and anchored on real change while constantly working at the boundary of stretch and challenge.
Kavi has a Masters in Business Administration. The fact that he is in "perpetual beta mode" helps him stay excited and alive. As the India Chair for the International Association of Facilitators for 2016, Kavi was instrumental in working with several global facilitators that helped custom design solutions around organisational strategy and design thinking.
Kavi speaks at a number of global and national platforms and connects with global peers to stay current and updated. An accent on inter-disciplinary approaches to problem solving, deep listening and a curious mind that believes in the power of conversation provide him energy.