[From Unsplash]
Good morning,
Crafting public policy is a theme that always gets our attention and people such as Vijay Kelkar and Ajay Shah who work on it command our respect. Their book In Service of the Republic is one of the finest expositions on the theme. There are many parts in it that get us thinking—such as this on how people respond to incentives.
"In 1902 in Hanoi, under French rule, there was a rat problem. A bounty was set—one cent per rat—which could be claimed by submitting a rat's tail to the municipal office. But for each individual who caught a rat, it was optimal to amputate the tail of a rat, and set the rat free, so as to bolster the rat population and make it easier to catch rats in the future. In addition, on the outskirts of Hanoi, farms came up, dedicated to breeding rats. In 1906, there was an outbreak of bubonic plague that killed over 250 people.
"Sometimes we think that people are stupid, or that people are hidebound in following traditional behaviour patterns. Economists have found, in field after field, that people are not wood, they are not stones. People think intelligently about their own self-interest and change their behaviour in response to changed incentives…
"This has far-reaching implications for policy thinking. It is dangerous to look at the world, come up with a design of an intervention, and hope that it will have a narrow impact as expected.
"Some Chinese universities mandated a fitness requirement measured through steps as counted on the mobile phone. A business sprang up, of firms that would shake a phone and artificially drive up the number of steps recorded on it.
"Human beings look at policies and rethink their optimizations. When kerosene is cheaper than petrol, we should expect that people will adulterate petrol using kerosene.
"In the sixteenth century, Dutch authorities levied taxes on individuals based on the width of their houses. This has led to narrow houses. The narrowest houses in Amsterdam are 80 centimetres wide.
"The response to changed incentives is often small in the short run, but in time, big changes come about."
Stay safe and have a good day!
In this issue,
The opportunity cost of Covid-focus
Afghanistan: Ground Report
How God thinks
The opportunity cost of Covid-focus
One of the unfortunate consequences of lockdown and stretched healthcare infrastructure during the coronavirus pandemic, especially in the early days, is that it took the attention away from many illnesses such as (tuberculosis in India, and) a specific type of polio in Africa. (It had already brought down the wild polio cases to zero.)
In State News, Matshidiso Moeti, who has served for the past seven years as the World Health Organization's regional director for Africa, writes, "another form of the virus, circulating vaccine-derived poliovirus, is still infecting children across the continent. This type of polio occurs in communities where too few children received the polio vaccine, enabling the live, weakened virus contained in the oral polio vaccine to circulate in the environment long enough to mutate to a form that can cause paralysis. In 2020, the global number of cases of this variant were three times higher than in 2019, with nearly 1,000 children paralyzed. About half of the cases were in Africa."
The pandemic was one reason, but not the only one. Moeti writes, "some countries did not give urgent priority to polio outbreaks, and not all of the vaccination campaigns reached the high number of vulnerable children required."
Now, as the risks of vaccine derived polio rise in Africa, Moeti points out, "committing to ending polio can yield benefits far beyond ending this one disease. More than half of the polio program's surge staff in Africa currently support Covid-19 surveillance, contact tracing, community outreach, coordination, and other logistics, as they did against Ebola in 2014, continuing the program's legacy of being at the forefront of tackling emerging health threats."
Dig deeper
Afghanistan: Ground report
How the US withdrawal from Afghanistan has gone horribly wrong is a narrative being dissected not just in the US, but across the world. And those of us in India are watching events in the country unfold with much interest. Did President Joe Biden have other options? Are there other narratives that aren't being reported? We're always looking for pointers to answers. That is why an interview by Zeeshan Ali of MSNBC with award-winning journalist Anand Gopal, who knows the country intimately, got our attention.
Gopal begins by pointing out to Ali that most of the mainstream media is reporting from just outside the airport. "(S)o one would think there is complete chaos in the country. But most of that chaos is just around the airport, and most of Kabul itself is calm. And then life outside Kabul is calm, and for the first time, outside of Kabul there's no war, which, if you talk to men and women in the countryside, especially in those areas that had faced heavy fighting, that's the most significant difference that they've seen, compared to what was there before."
What is top of mind for people in rural Afghanistan now that the Taliban is in control? Gopal's conversations have it that "The first thing people say when I call them these days is, 'Thank God everything's peaceful.' They're not even thinking about the kinds of things we think of, like, 'Who's going to be in the government? Are the Taliban going to be sharing power? What's the role of women?'"
Dig deeper
How God thinks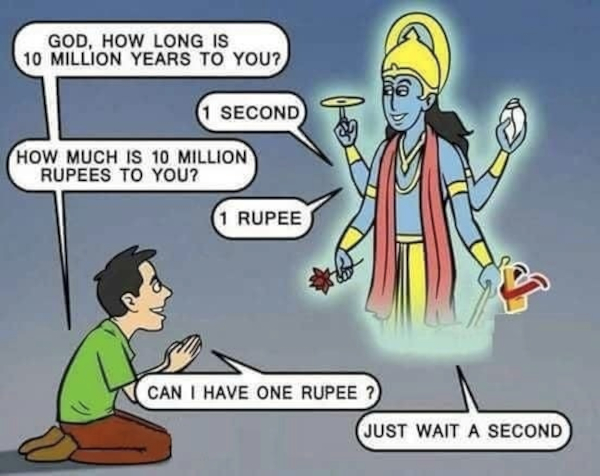 (Via WhatsApp)
Found anything interesting and noteworthy? Send it to us and we will share it through this newsletter.
And if you missed previous editions of this newsletter, they're all archived here.
Bookmark Founding Fuel's special section on Thriving in Volatile Times. All our stories on how individuals and businesses are responding to the pandemic until now are posted there.
Warm regards,
Team Founding Fuel
(Note: Founding Fuel may earn commissions for purchases made through the Amazon affiliate links in this article.)