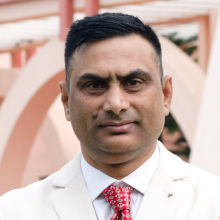 G Venkat Raman
Professor, Humanities and Social Sciences
Indian Institute of Management, Indore
Dr. G Venkat Raman is Professor, Indian Institute of Management, Indore. He is currently a Fulbright Fellow, Schar School of Policy and Government, George Mason University (Virginia, USA). In the Schar School, Venkat is offering a course titled 'China Challenge' for the post-graduates and doctoral students. He is also researching the current state of US-China power rivalries with specific focus on the technology war and climate change.
Venkat is primarily a Sinologist. Apart from China studies, he has developed a keen interest in the subject of Business Ethics during the last more than eleven years of his association with IIM Indore and IIM Kozhikode. Given his Political Science background, Venkat brings in fresh perspectives in his teaching pedagogy and research.
Besides teaching core courses like Introduction to International Relations (for UG participants) and Ethics and CSR (for PG participants) he offers elective courses like Power Rivalries and Global Governance in the twenty-first century, Understanding the China Challenge, and Political Risk Management.
He has completed his doctoral studies from the School of Government in China's premier university, Peking University, Beijing. Venkat is a fluent Mandarin speaker. He has also worked in Beijing as a professional for two years and eight months. He has been a visiting Fellow in the BRICS centre, Fudan University, Shanghai, and visiting Faculty in ICN Nancy, France. His areas of research interest are China's interface with Global Governance and Business Ethics pedagogy.
Venkat's most recent work is a co-edited volume on BRICS. The edited volume is titled 'Locating BRICS in the Global Order: Perspectives from Global South,' and published by Routledge, London. He has also published research articles on subjects related to China. He has co-authored case studies on Indian businesses in China. These cases are part of prestigious case centres like Ivey Publishing, ISB Hyderabad and China Europe International Business School, Shanghai. Venkat is also associated with the Ashoka Centre for China Studies as a mentor and advisor. He is also an Honorary Fellow, Institute of China Studies, New Delhi.
He is member, Board of Trustees, Azad Foundation, New Delhi, which works for the financial empowerment of women below the poverty line by training them in non-traditional livelihoods. Venkat has also been invited as a guest speaker in various fora to speak on themes related to China studies.