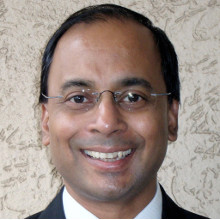 R Sriram
Co-Founder
Next Practice Retail
Sriram's passion for books was serendipitous & led him to establish bookstores across India - he started his journey with Landmark in 1988, set up Walden in Hyderabad in 1990 & then the Crossword chain across India.
He co-founded Crossword with Ms. K. Anita in 1992 & helped build it into India's leading bookstore chain. He arranged for the buyout of Crossword by the current owners Shoppers' Stop Ltd. in 2000 from the initial investor India Book House Ltd.
Sriram stepped down from Crossword in August 2006 and co-founded Next Practice Retail that offers business design, strategic planning and advisory services for businesses across industries, sectors and stages.
Sriram strives to help entrepreneurs and enterprises create, deliver and capture value. He is an Independent Director on the Board of Kokuyo Camlin Ltd. and was an advisor to Seedfund, the early stage venture fund, and to some of its investee companies.
Sriram serves on the board of trustees of the non-profits Society For Nutrition Education & Health Action (SNEHA) and Pratham Books. He serves on the board of advisors of the non-profits Junoon Theatre and Toybank.
He served as President of The Indus Entrepreneurs (TiE) Mumbai, the global not-for-profit organization that fosters entrepreneurship & entrepreneurs (2010-12).
While at Crossword, Sriram established the Crossword Book Awards to annually recognize & reward the best of Indian writers & books, that he continues to oversee. He curated the Kala Ghoda Literature Festival from 2005 to 2010.
He's a guest lecturer at IIM A, IIM L & other business schools as it helps him keep learning.
He is particularly interested in entrepreneurship, innovation, business models & strategy, purpose & culture, leadership, education & learning, and next practices.
He remains a student & book evangelist.